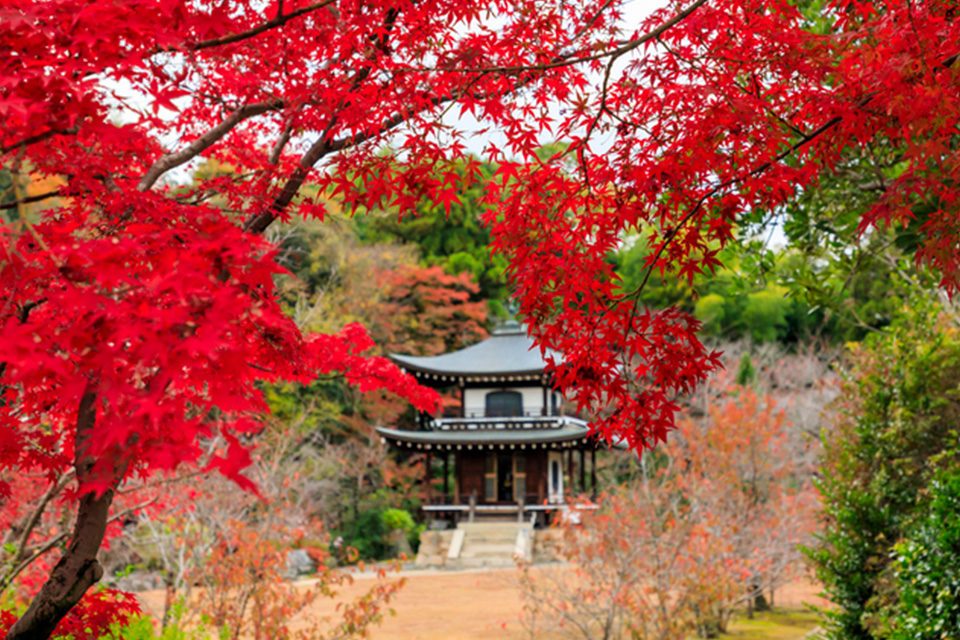 Kyoto is a busy city, full of tourists all year around. But in autumn season will get more travelers to come. For everyone who wants to have sights of red leaves. In some district, some places will get more recommendations, so those places will be more crowded. At the same time, there are some secret red leaves view spots worth visiting. This time is to introduce according to district and features.
Kyoto is an old capital of Japan, no matter old building or natural sceneries. It will let visitors admire for it. Every time when tourists come for Kyoto, the fantastic sights will impress everyone, especially in autumn foliage period. Here below will introduce red leaves sights place and best time to visit of each district.
There are the Kyoto World Cultural Heritage of Kamo Shrine, Shimogamo-jinja Shrine and Enryaku-ji Temple. The clear water of Shimogamo goes through all the district. Because the temperature is generally 10℃ lower than Kyoto, the maple leaves will change color earlier.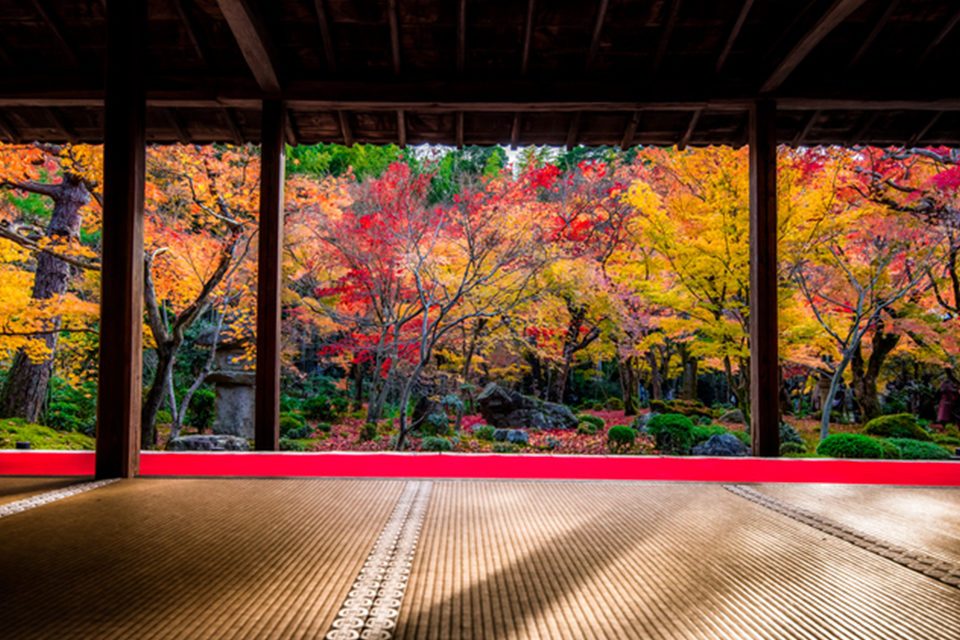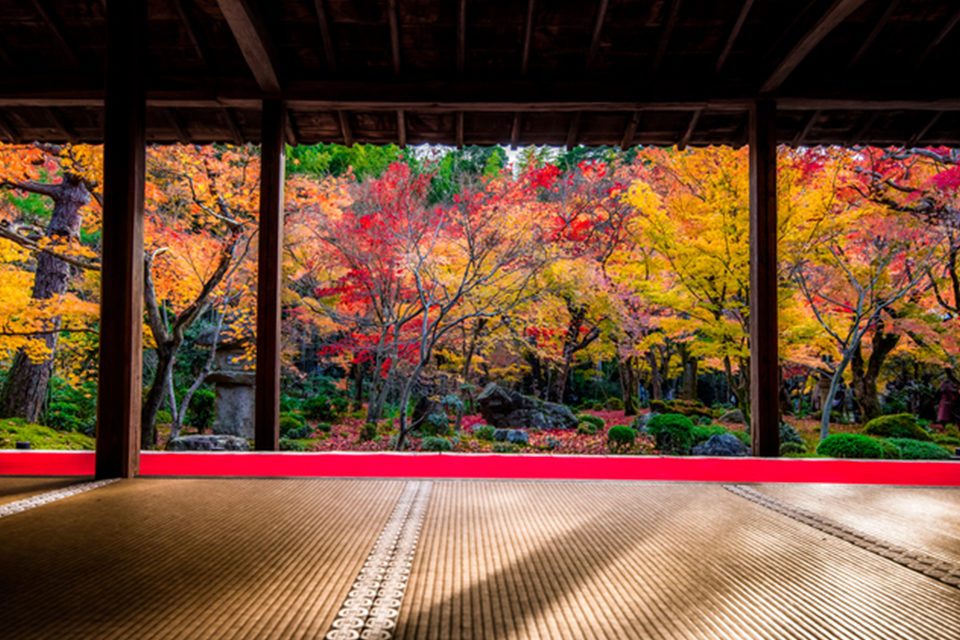 Enkouji Temple
It was a school built by Tokugawa Ieyasu at Fushimi-ku in 1601AD, and moved to here in 1667. Maple starts to change shade in early November. Generally, mid November to early December is the best time for enjoy red leaves. From "Ten Bulls Garden", can treat the edges of the house and the inner crossbeams as a photo frame. Take them together with the beautiful scenery outside.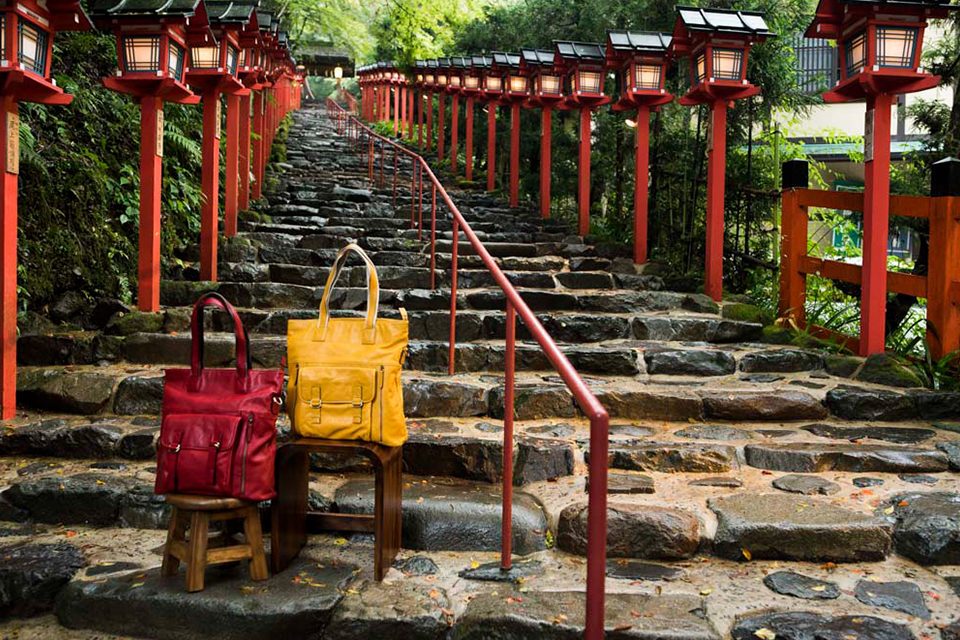 Kifune Shrine
Because situates at the north mountain district, so treated as a place of summer resort and named "The Deepest Seat of Kyoto". Generally, from mid to late November visitors can see red leaves. Whenever in the shrine, those are as pretty as postcard. The closer to the mountain, the more gigantic sceneries will be.
Surrounded by Kawaramachi Dori, Karasuma Dori, Shijo Dori and Oike Dori, it is a prosperous distinct in Kyoto center. These places are under list of World Cultural Heritage including Nijo Castle, Shimogamo Shrine and Nishi Hongan-ji.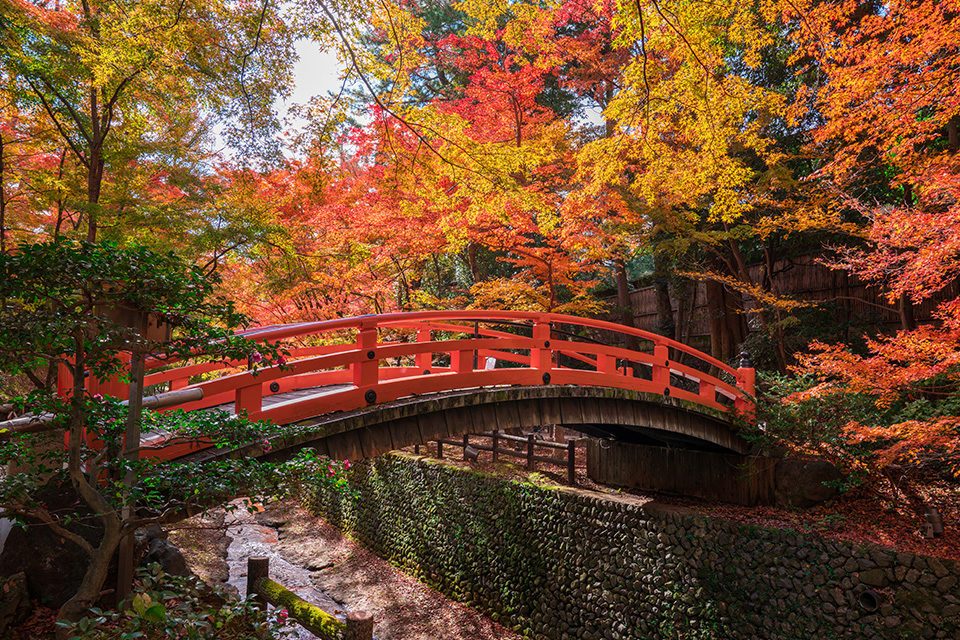 Kitano Tenmangu Shrine
It is the originator of 12,000 Tenmangu Shrines in Japan. There it makes here become a famous sightseeing place, but seems not that well-known for fall foliage. Indeed, here can see the pictures weaved by 350 millions maple leaves. A place is absolutely for beautiful autumn views. Standing on the Uguisubashi Bridge at Tenjin River, visitors can see the reflection of red leaves scenery.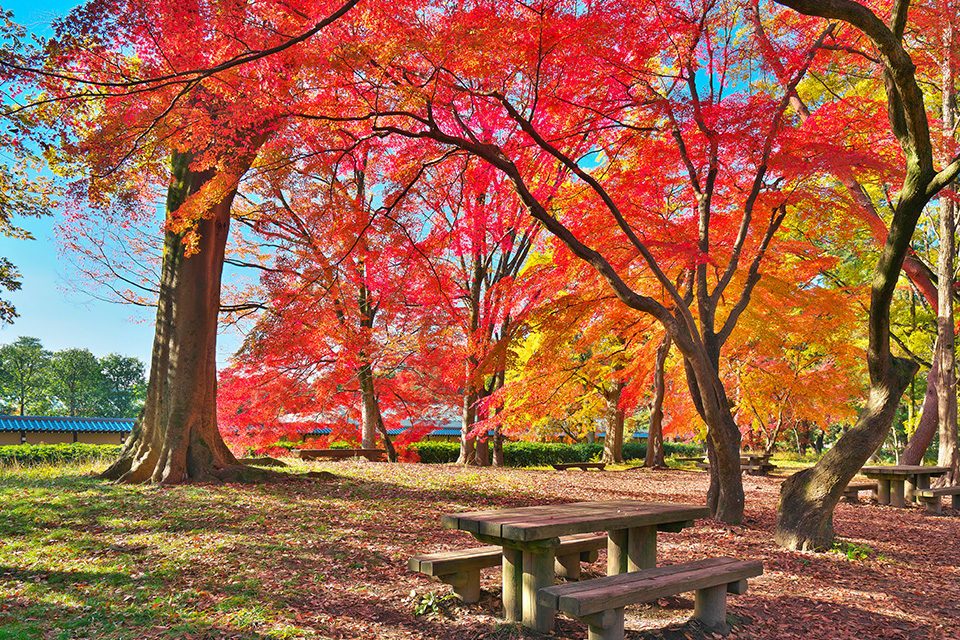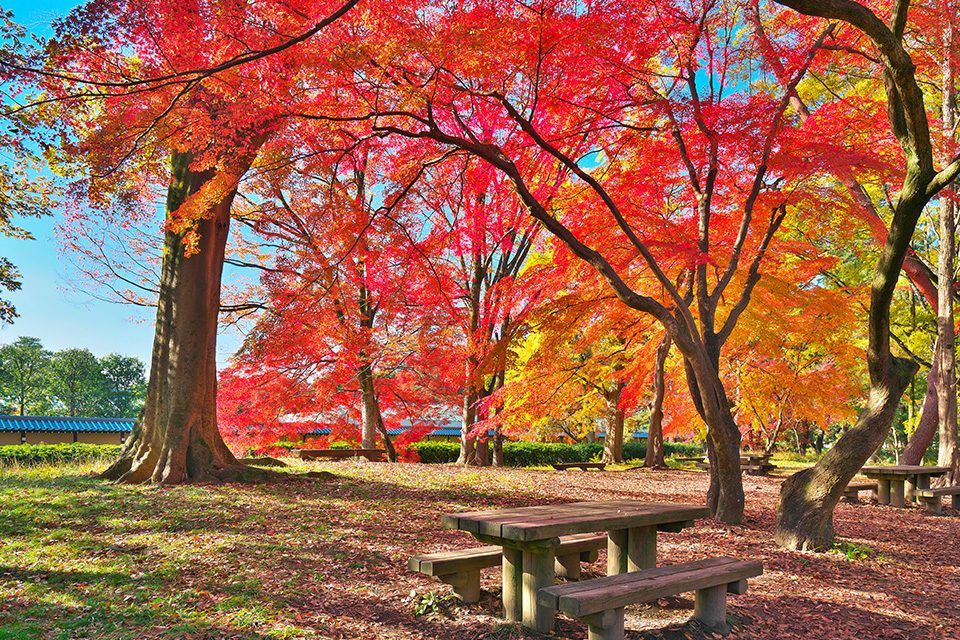 Kyoto Gyoen Garden
When autumn comes, people can admire the pretty maples, ginkgo biloba and zelkova serrata trees in Gyoen Garden. Colors of autumn free demonstrate in this vast place, especially the giant ginkgo biloba trees nearby the Gyoukatou and Haha-to-Ko-no-Mori Forest. The gold color fruits of ginkgo twinkle brightly. Really fantastic!
The Kiyomizu-dera Temple and Ginkaku-ji represent the district of Kyoto.
Kiyomizu-dera Temple
Kiyomizu Stage is the major place to enjoy red leaves. Under the blue sky at daytime to see the red maple leaves, it is the natural beauty. If come at the night for lightened red leaves, lights go through the red leaves are marvelous.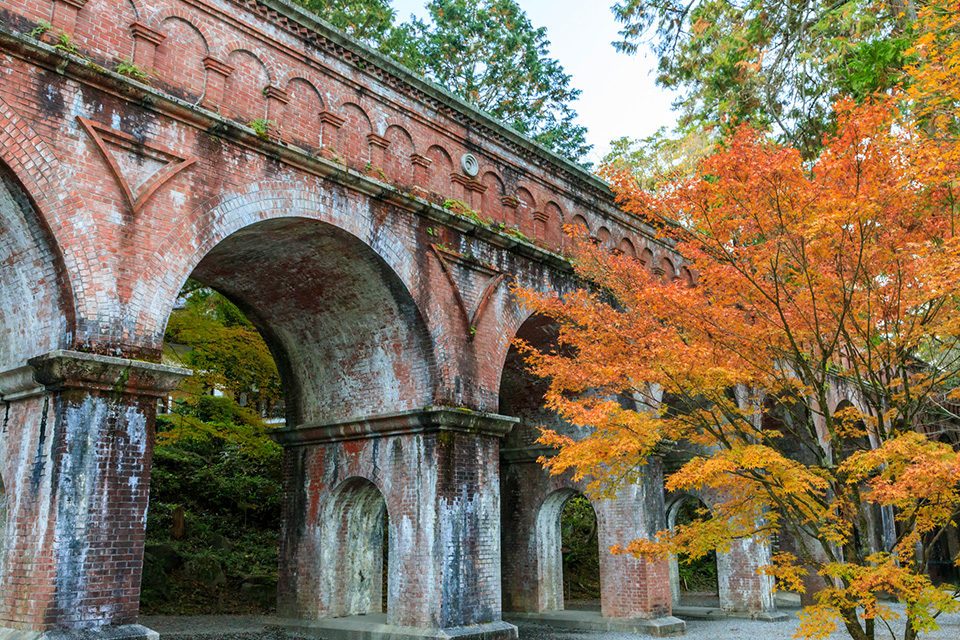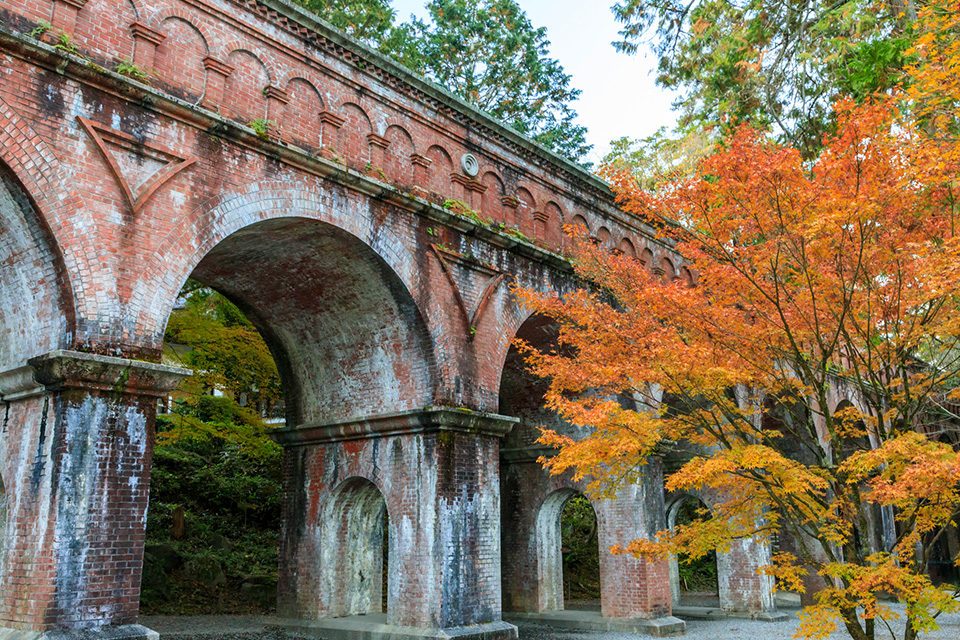 Nanzenji Temple
The red leaves in here are as beauty as an oil painting. Walk along the pilgrimage's path from the entrance to the temple, bright red maples welcome everyone. The feature of Nanzenji Temple from other Kyoto temple is, here is the western style arch shape water channel constructed by red bricks. Visitors can take beautiful fall foliage photos everywhere.
World Cultural Heritage such as Kinkaku-ji Temple, Ryoan-ji Temple and Ninna-ji Temple are all located at here and being popular sightseeing points. In red leaves period, the gigantic red leaves views attract numerous tourists to come.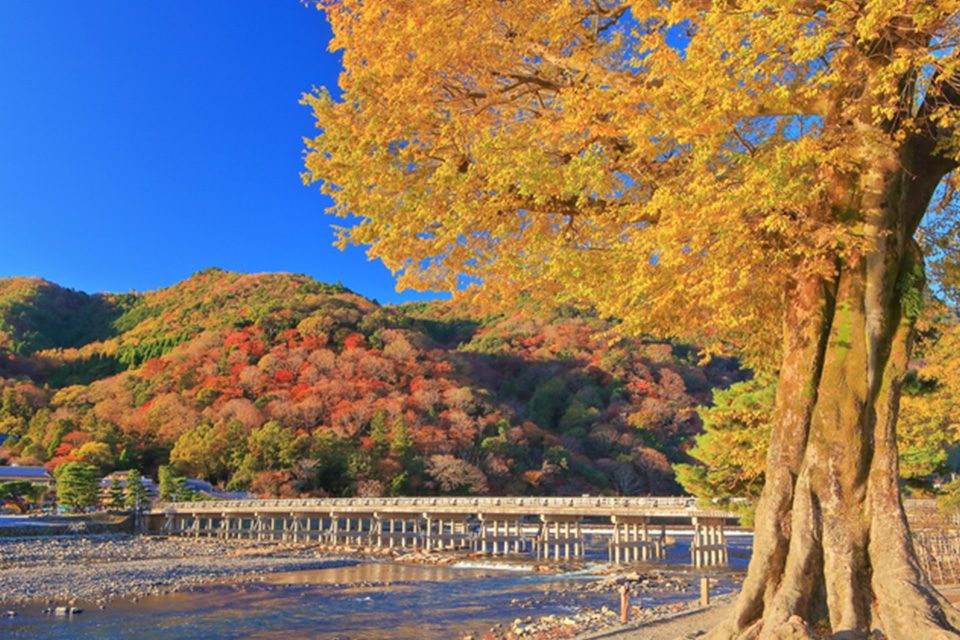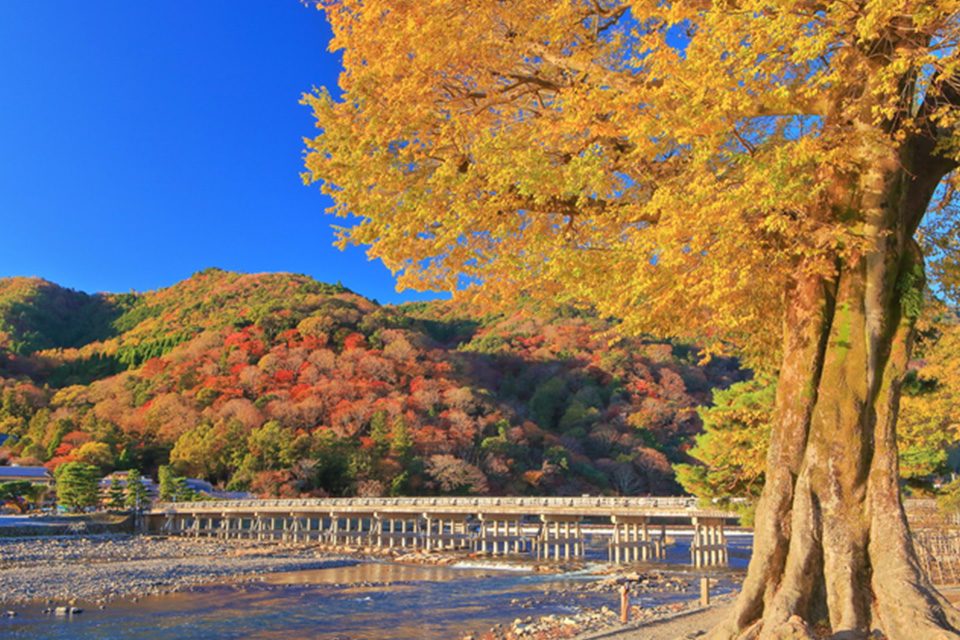 Arashiyama・Togetsukyo Bridge
No matter in what season. Arashiyama is a favorite sightseeing place. When winter arrives, everyone wants to see the colorful sceneries of Togetsukyo Bridge with red leaves background. Therefore, there are full of tourists. Red leaves in here come earlier than other places, generally from mid to Late November.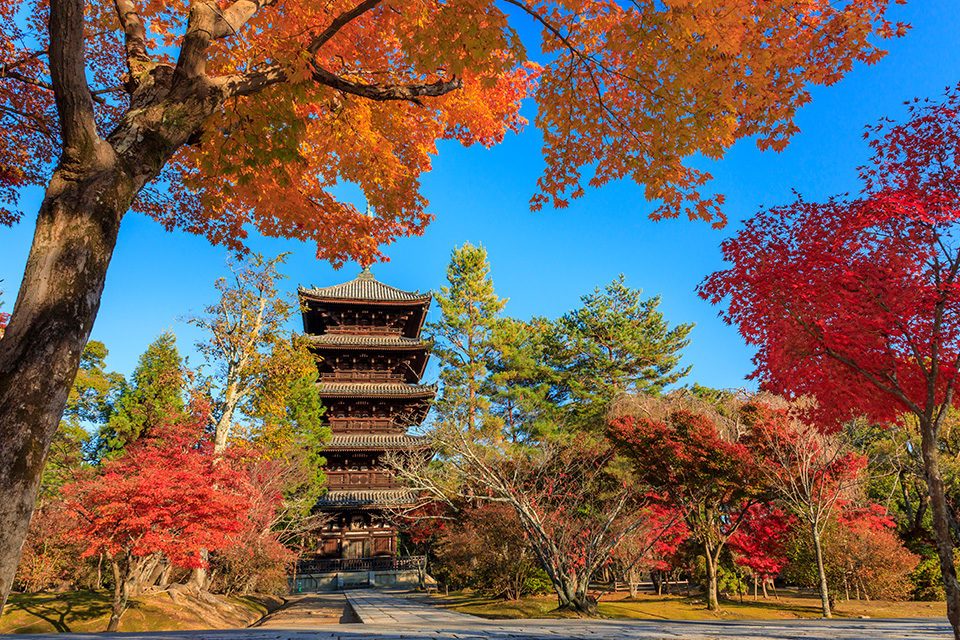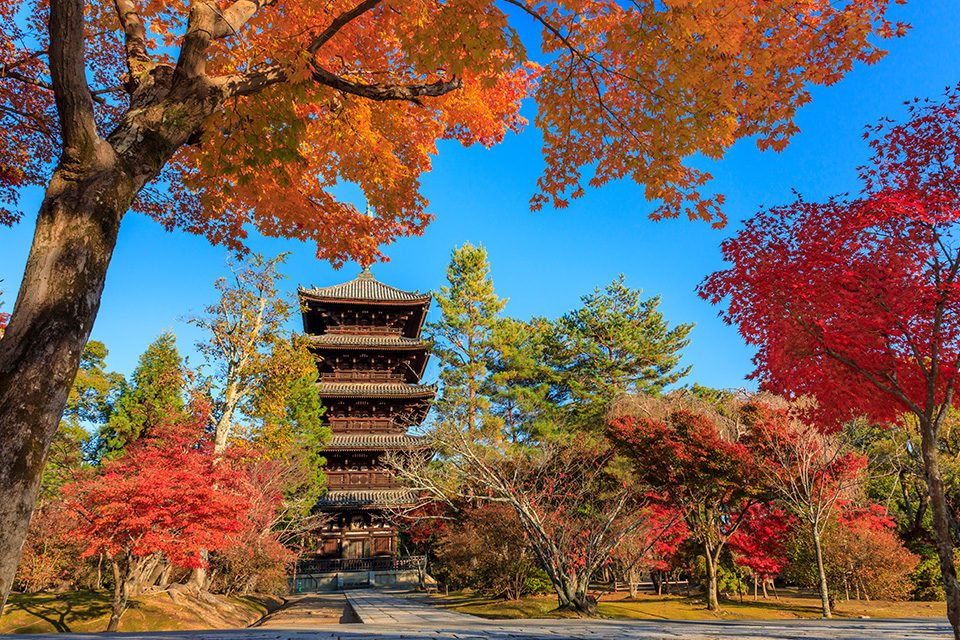 Ninna-ji Temple
It is a World Cultural Heritage and famous for the grateful red leaves. Around Kondo Hall and 5 storeyed pagoda are main locations for red leaves.
The most favorite red leaves sight points of tourists are Tofukuji Temple and Fushimi Inari Shrine. They are in Rakunan area. Since it is the place of Kyoto Railway station, public traffic is very convenient and tourists can go everywhere easily.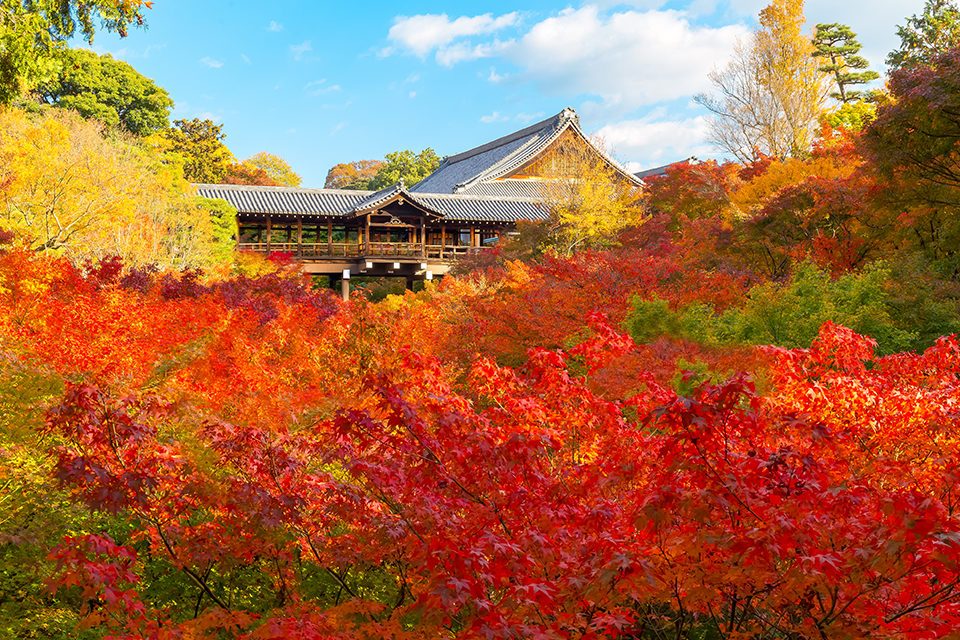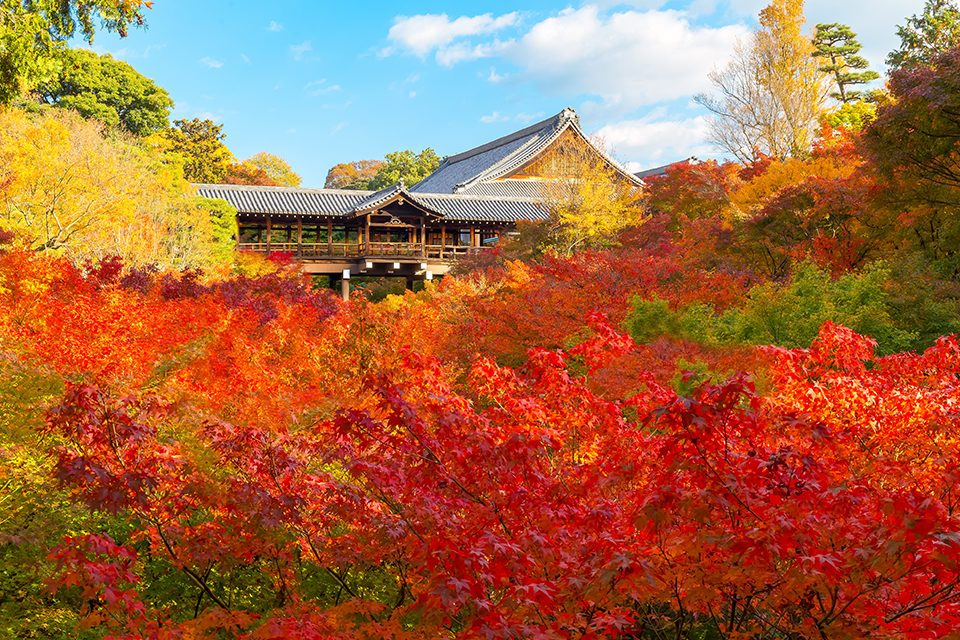 Tofukuji Temple
It is reputed as the best red leaves sightseeing spot in Kyoto. In the temple, red leaves can be seen everywhere. Beautiful geometers leaves of maple and full moon maple trees weave together. Especially in Tsutenkyo Bridge, the red leaves sceneries are extremely nice.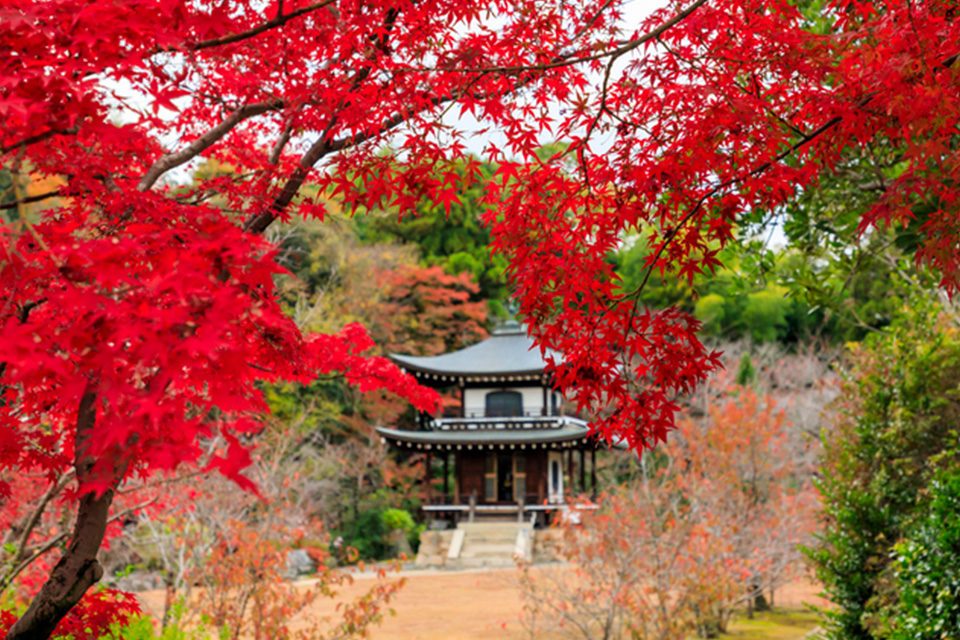 Kaju-ji Temple
From closest station to here needs only 5 minutes and not that crowded. It is a hidden red leaves sightseeing place. Red autumn views around Himuroike Pond are very beautiful. Best time for red leaves is mid to late November.
Starting from Kyoto Station of Nara Line, it needs only 20 minutes to Uji Station. Around the station, there are many red leaves spots and there is also the originated place of famous tea leaves in Japan.
Byodo-in Temple
Have a look on the 10Yen coin, is it familiar? That is Byodo-in Temple. Walking along Aji River in red leaves period, along the river side planted more than 100 full-moon maple tree. In the tea house of Byodo-in Temple, tourists can enjoy the green tea from original Uji tea leaves.
Ikkyu ji Temple
It was said as the place for the final life time of the famous monk Ikkyu. It is also the Zen Temple of Minamiyamashiro. In the vast temple, travelers can admire the red leaves comfortably. Because it is out of Kyoto City, it is a good place for visitors to relax here.