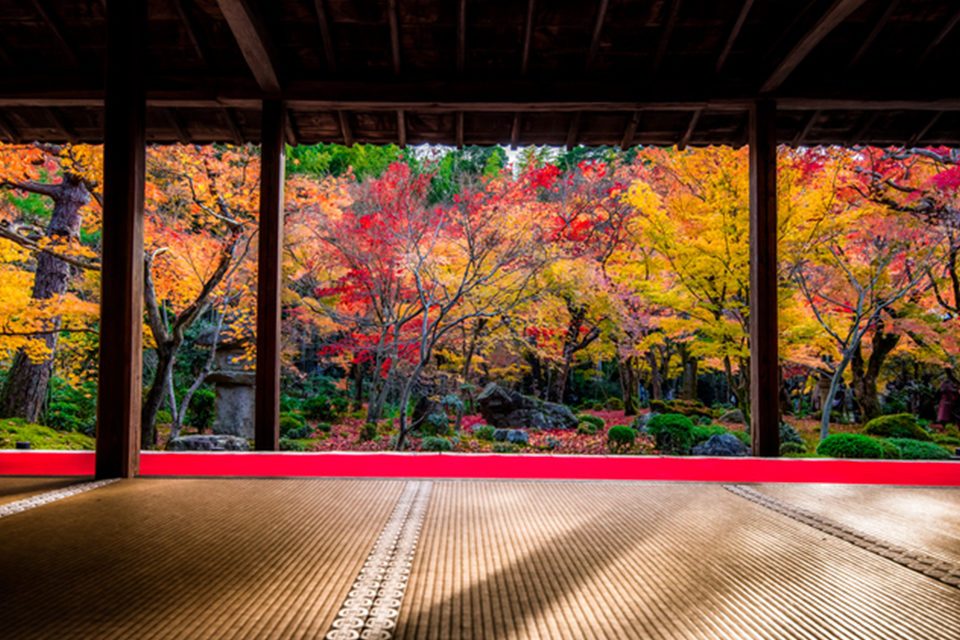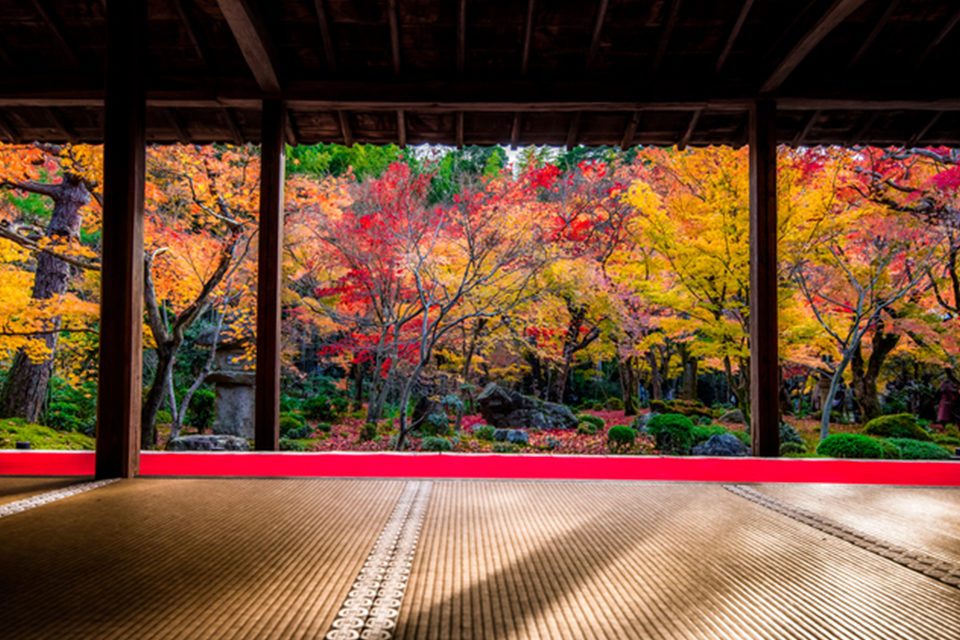 Enkouji Temple was built by the monks from the Ashikaga Gakko (Japan's oldest academic institution) asked by Tokugawa Ieyasu. There was turned into a temple for nuns after revolution of Meiji. Travelers can enjoy red leaves at 2 gardens.
Where are the places that are for red leaves photos in Enkouji Temple?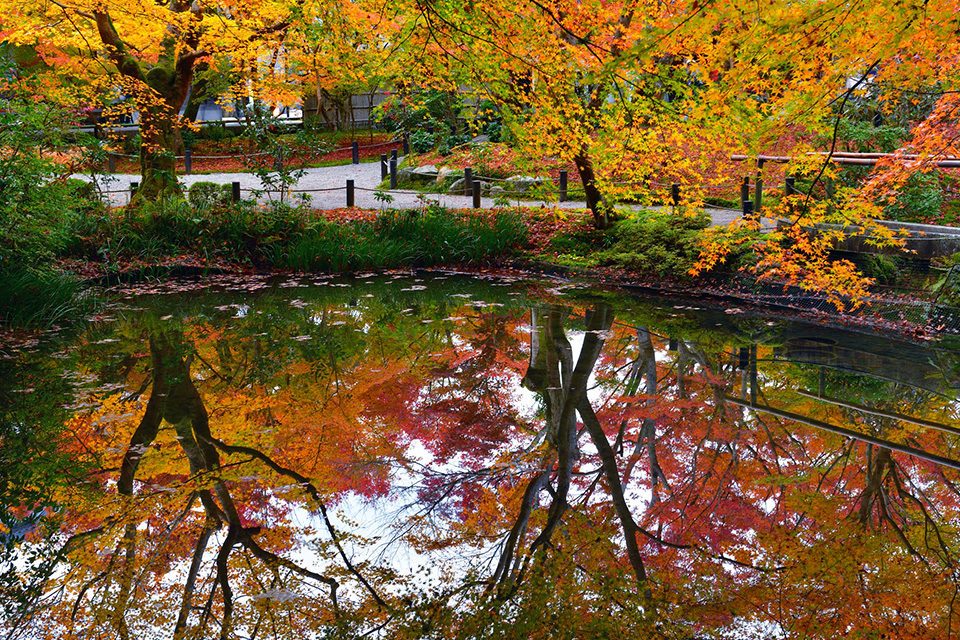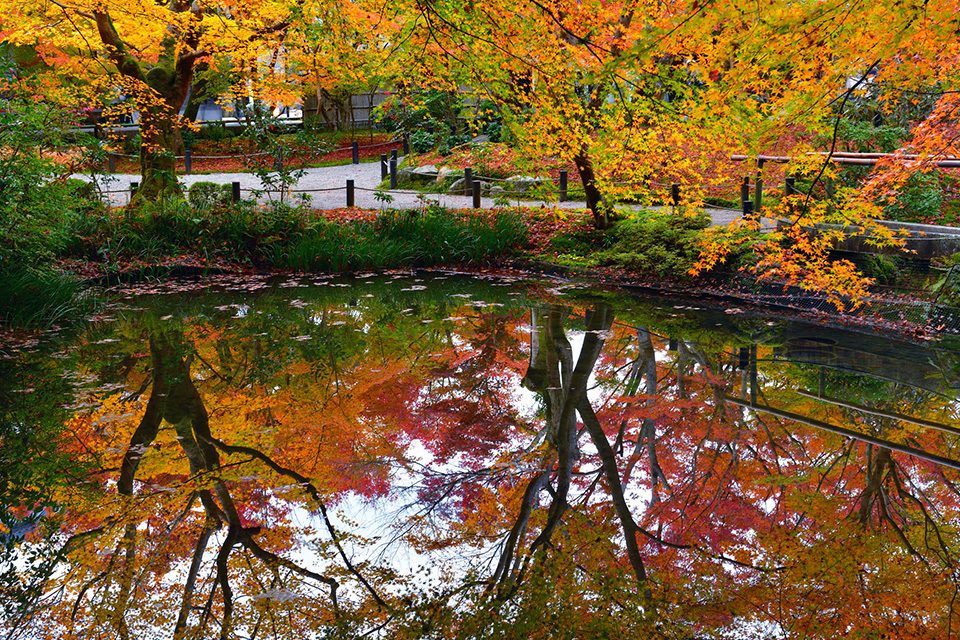 The pond & fountain promenade garden "Ten Bulls Garden" was built in Edo period. It is a well-known place for maple leaves. "Ten Bulls Garden" was built according to the theme of"Ten Bulls of Zen"that spread widely in late Kamakura period to Muromachi period. "Ten Bulls of Zen" was formed by 10 different pictures. It talked about the steps of awareness for mankind minds. They were: 1. In Search of the Bull, 2. Discovery of the Footprints, 3. Perceiving the Bull, 4. Catching the Bull, 5. Taming the Bull, 6. Riding the Bull Home, 7. The Bull Transcended, 8. Both Bull and Self Transcended, 9. Reaching the Source and 10. Return to Society. There are 10 cow shape rocks in "Ten Bulls Garden", the one in the center looks like a recline cow, so it is called "Recline Cow Rock". The edge side of the floor of school in the main hall is covered with rugs, the outside garden just like the scenery being framed by wooden pillars and beams. Views of the falling red leaves lying on the mosses are also gorgeous. At the east side of "Ten Bulls Garden" displayed the giant rocks, while the west side with small stones. The places near school are also displayed with stones. To view the giant rock far away, it comes out a solid figure. In the south position, there is the gourd shaped pond named Seiryuchi. The reflections of red leaves in the pond are very pretty. The Seiryuchi was the oldest pond in Rakuhoku area of Kyoto. At the most narrow part of the gourd, a stone bridge is set up here. At the end of the bridge, it is a branch road to the back hill. Walk along with it will arrive Zuiyunge. By taking the statue of "Bodhisattva's Smile" and falling red leaves to construct a beautiful picture in "Ten Bulls Garden". The statue of "Sleepy little monk" is also a popular place for taking photos. From the back mountain of Tosho-gu, visitors can take photos of Enkouji Temple together with autumn foliage of Kyoto City. In the Karesansui dry rock garden Honryutei, which built in Heisei period, travelers can see a stone post with flying dragon craving, and some red leaves as well.
What is the period of seeing red leaves blooming in Enkouji Temple?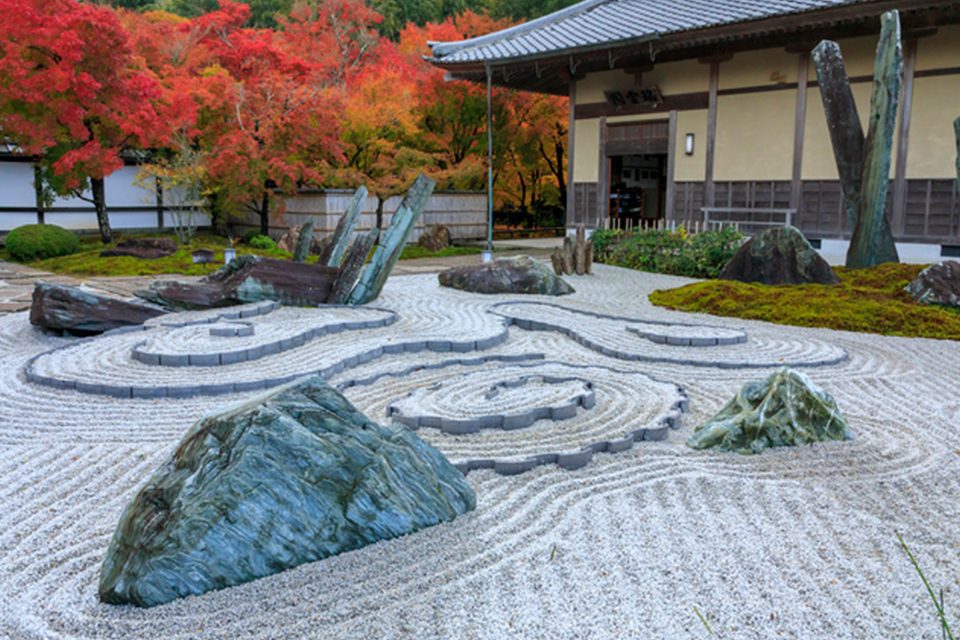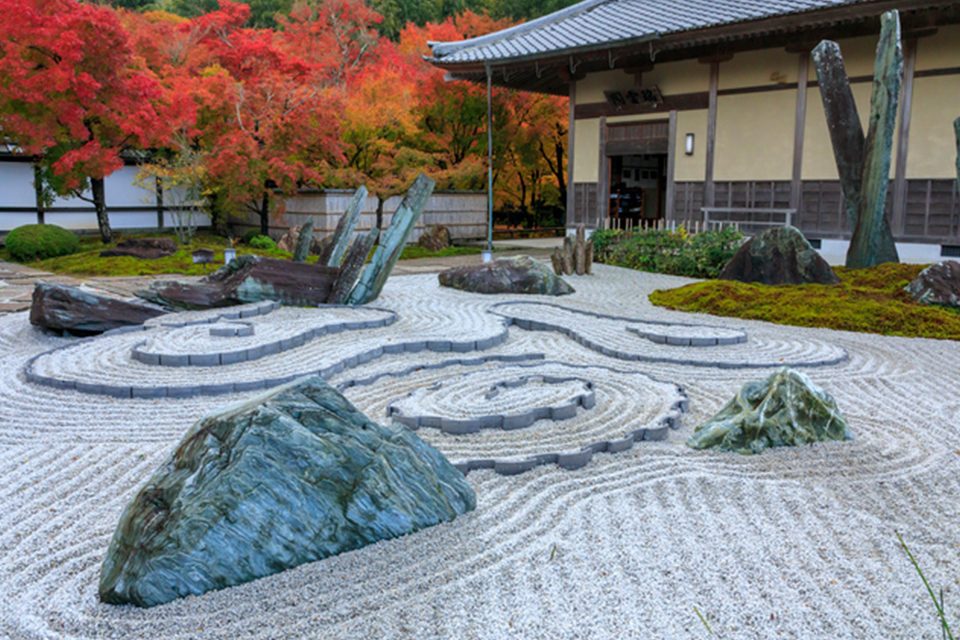 It is generally in late November to early December every year. Since climate of every year will vary, time of red leaves will also change. Suggest going facebook and website of Enkouji Temple for more update information.
How crowded it will be in red leaves period at Enkouji Temple?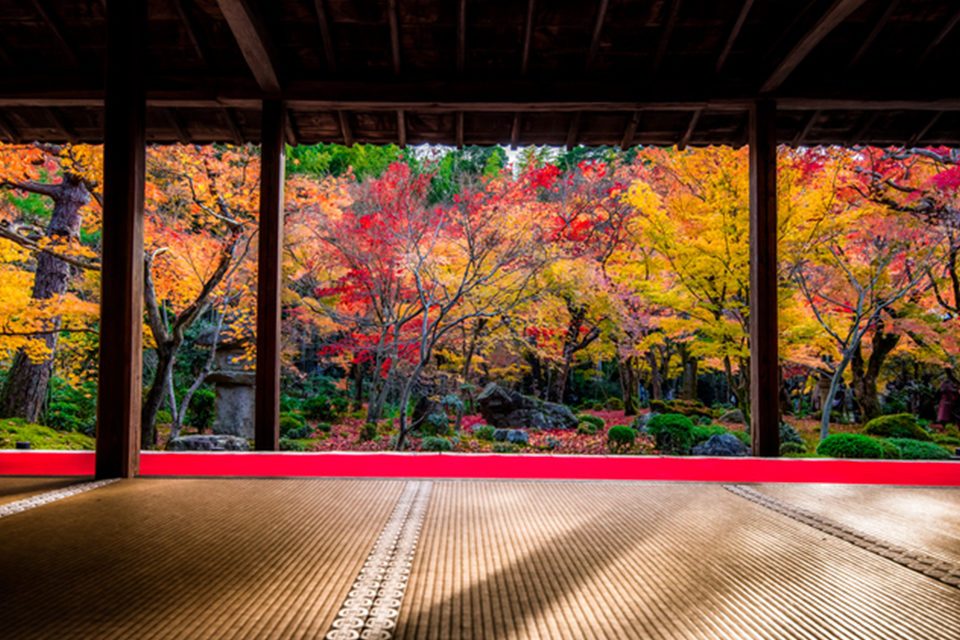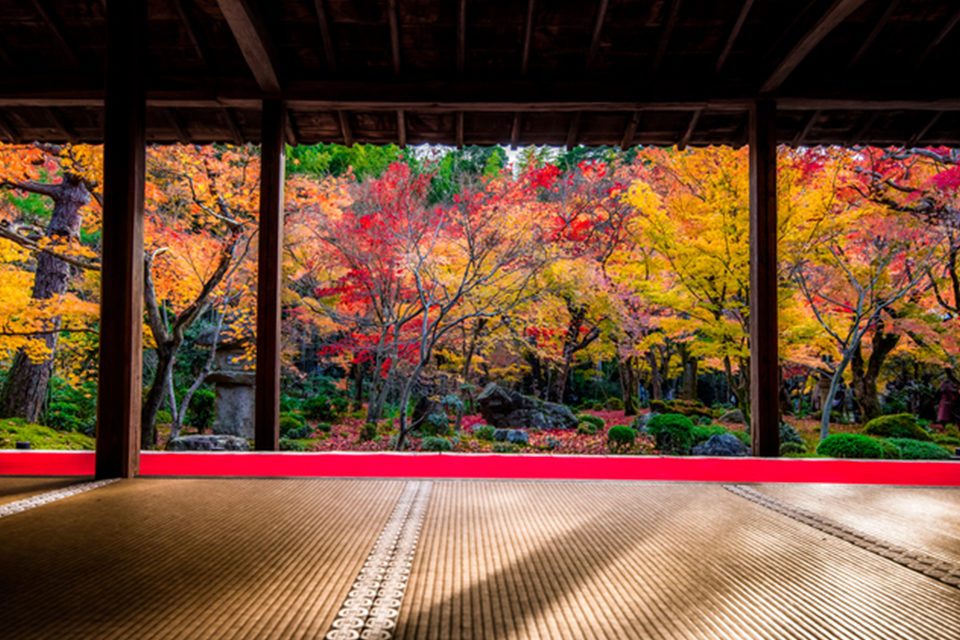 Because the famous red leaves sightseeing spots Manshu-in Temple and Shisendo Temple are nearby. Therefore, there will be fewer tourists at Enkouji Temple. If tourists want to enjoy red leaves leisurely, they can take part the morning worship event that lasts for one week, from 16th to 22th November 2017 for reference. 70 people for one day. It started from 7:30am to 9:00am. Visitors can reserve one month before by tel (075-781-8025). 1000Yen per person. Visit Enkouji Temple Website for more information
Features of Enkouji Temple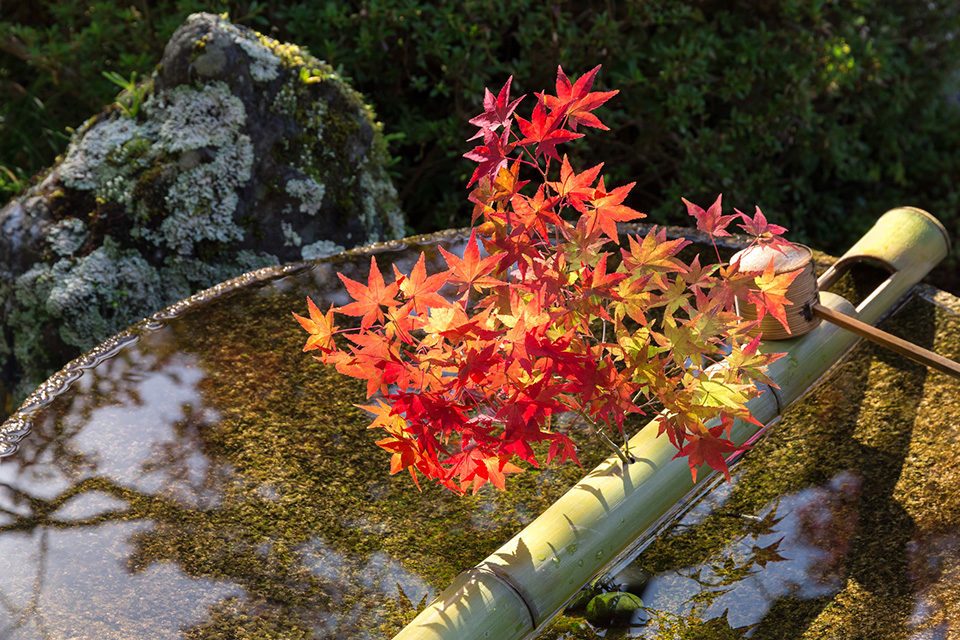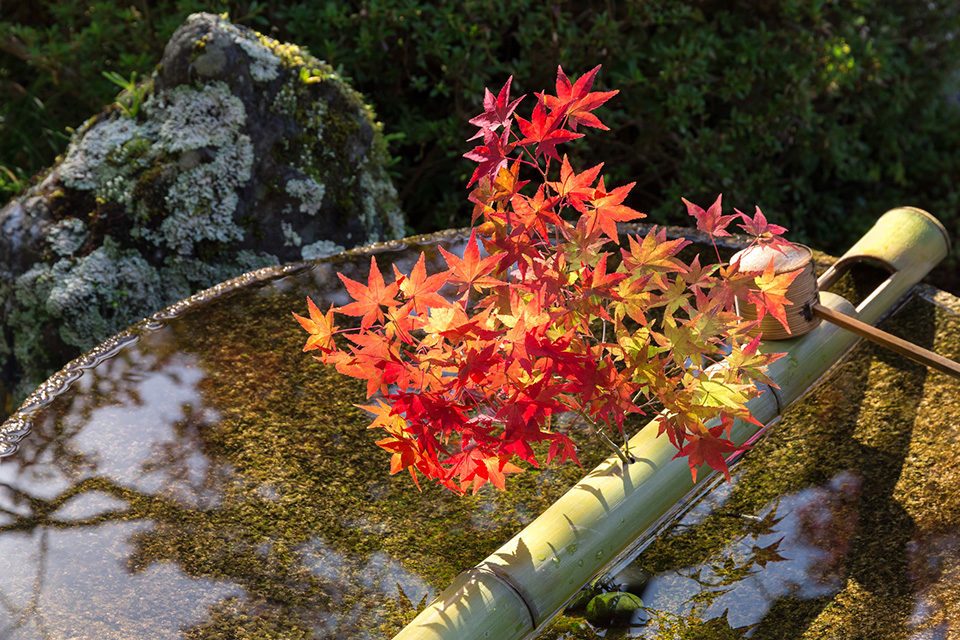 The most well-known are Tosho-gu where the teeth of Tokugawa Ieyasu are buried and the bamboo grove that painter Maruyama Okyo in Edo period visited before. In front of the entrance of main hall, there is a huge Suikinkutsu (water koto cave) with Enkouji Temple style, a rare style and the sound is clear and sharp. In the main hall, during Tomioka Tessai visited Enkouji Temple, he painted 2 wonderful natural landscapes on paper door paintings. He was a master so-called"The last major artist in the Bunjinga tradition"in the Meiji and Taisho period. Besides, the Zuiyunge, where showing the wooden movable-type painting"Fushimiban" is also a nice place to enjoy the red leaves.
Red leaves viewing points around Enkouji Temple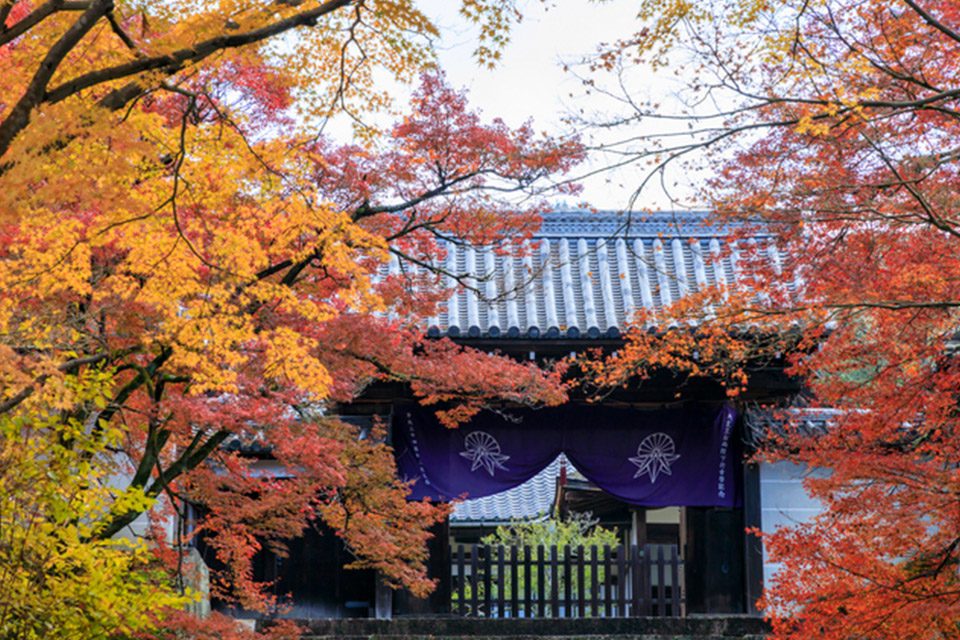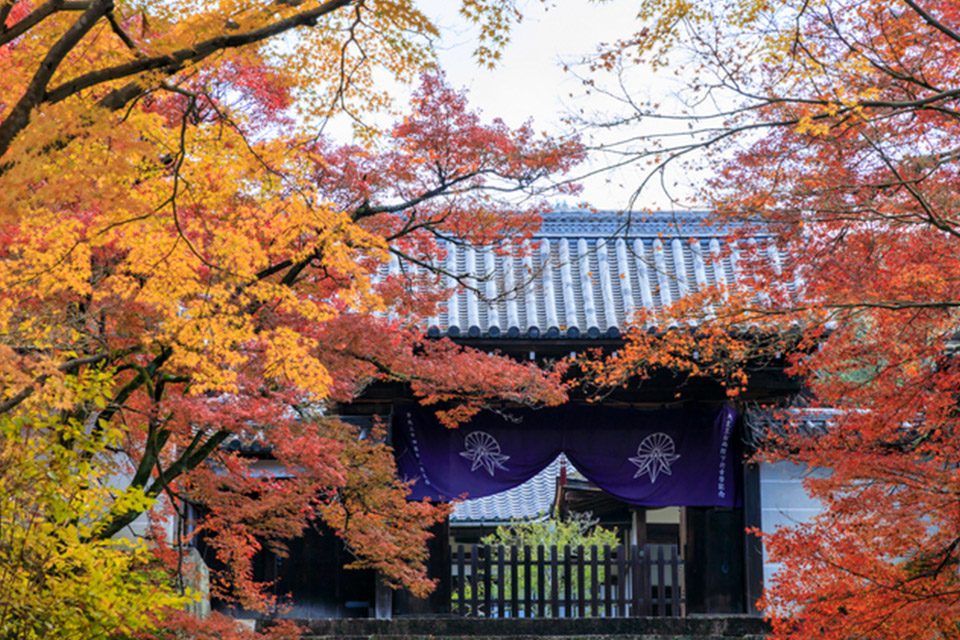 Manshu-in Temple
Manshu-in Temple School is influenced deeply by 2 Rikyu. One is Katsura Rikyu built by the son of Prince Hachijo Toshihito, the other one is Shugaku-in Rikyu built by Ryosho Nyudo shin no, the adoptive son of Emperor Go-Mizunoo. In the Karesansui dry rock garden that the garden expert Kobori Masakazu and Ryosho Nyudo shin no like the red leaves views very much. The chozuya (for washing hand before entering the temple) that craved in owl outlook outside the small school is also extraordinary.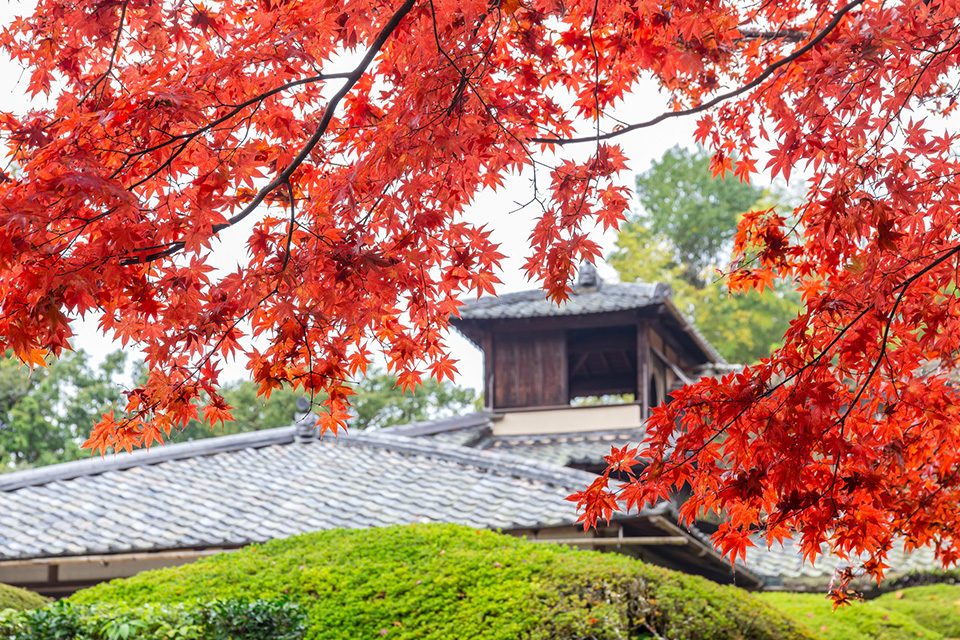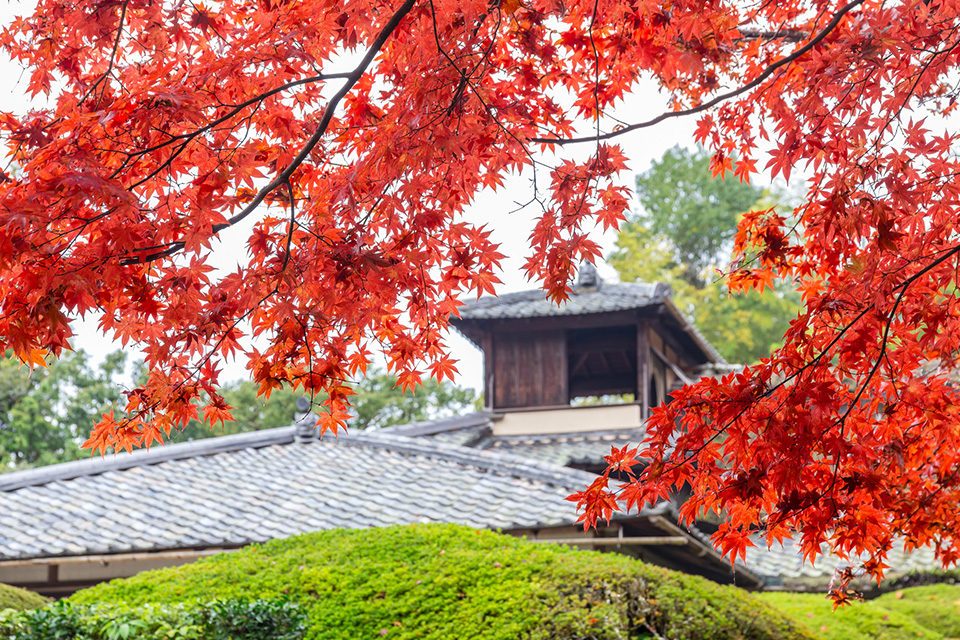 Shisendo Temple
Shisen no Ma (the Shisen's hall) and the school can enjoy the fall foliage. The rhododendron indicum are cut into ball shape in May & June. So In the red leaves period, with match of green leaves, maples are brighter. Shisendo Temple was built by Ishikawa Jozan, a writer in Edo period. It is worth seeing a tool called Shishi-odoshi that is a farming tool making sound to get rid of birds and wild animals.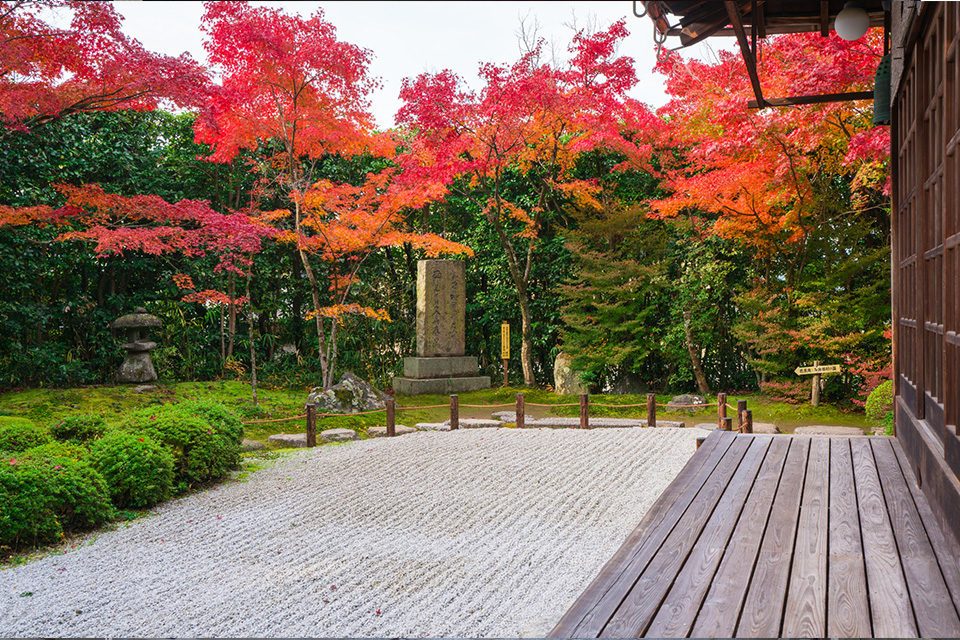 Konpuku-ji Temple
It was the monks of Konpuku-ji Temple got knowing with Matsuo Basho, reputated as "Haisei"(the master of Haiku). Matsuo Basho and his friend Yosa Buson, another Haiku poet, together made Konpuku-ji Temple prosperous again. Then they constructed the Bashoin. In Karesansui dry rock garden, there planted rhododendron indicum on the artificial mountains and red leaves. It is a very good place for taking photos at Bashoin with thatch roof. Standing in front of Bashoin, visitors can take the red leaves and Kyoto City together in photos.
Open hours: 9:00am to 5:00pm Fee: 500Yen for adults, 400Yen for secondary school, 300Yen for primary school
Address:
13 Ichijoji Kotanicho Sakyo-ku
Get off at Ichijoji Station by Eizan Railway, 15mins walk
Get off at Ichijoji Sagarimatsucho Bus Stop by City Bus, 10 mins walk
Car park for 30 cars
Epilogue Enkouji Temple is located a little bit far away from Kyoto center. Red, orange, yellow and colorful autumn leaves together with "Ten Bulls Garden"that is covered by green mosses, express the beauty with concord. Though distance is longer, it is still worth traveling.