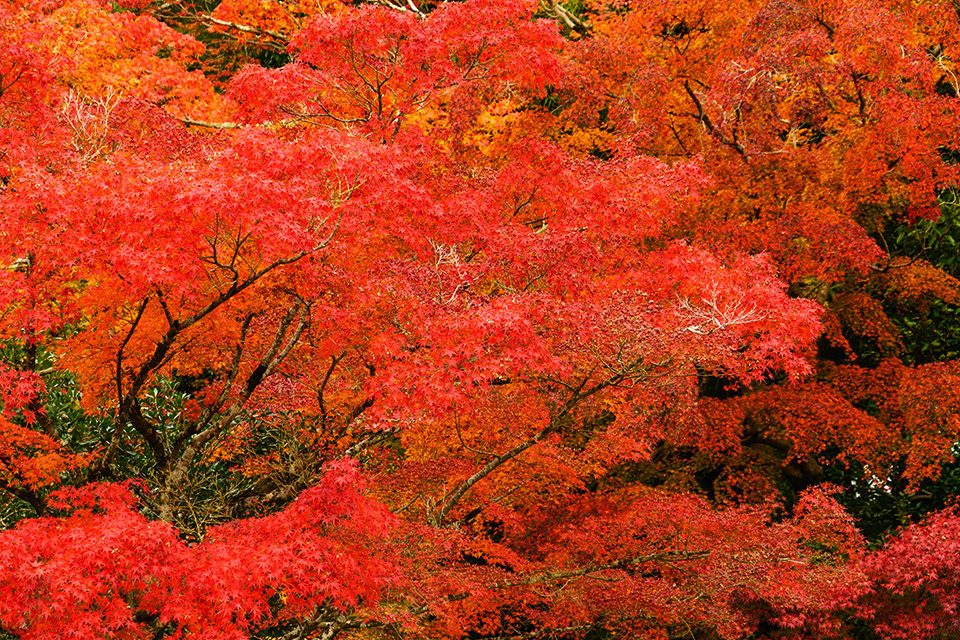 Eizan Railway starts from Demachiyanagi Station, 2 different final destinations: Kurama Station and Hieizanguchi Station. The "Red Leaves Tunnel" is in between Ichihara Station and Ninose Station of Kurama direction. There are about 280 Full-moon acer japonicum trees and acer palmatum maple trees at both side of the track. When train passes through, it is a nice scenery. There are more information about the fall foliage and red leaves tunnel of Eizan Railway.
The ways to enjoy red leaves tunnel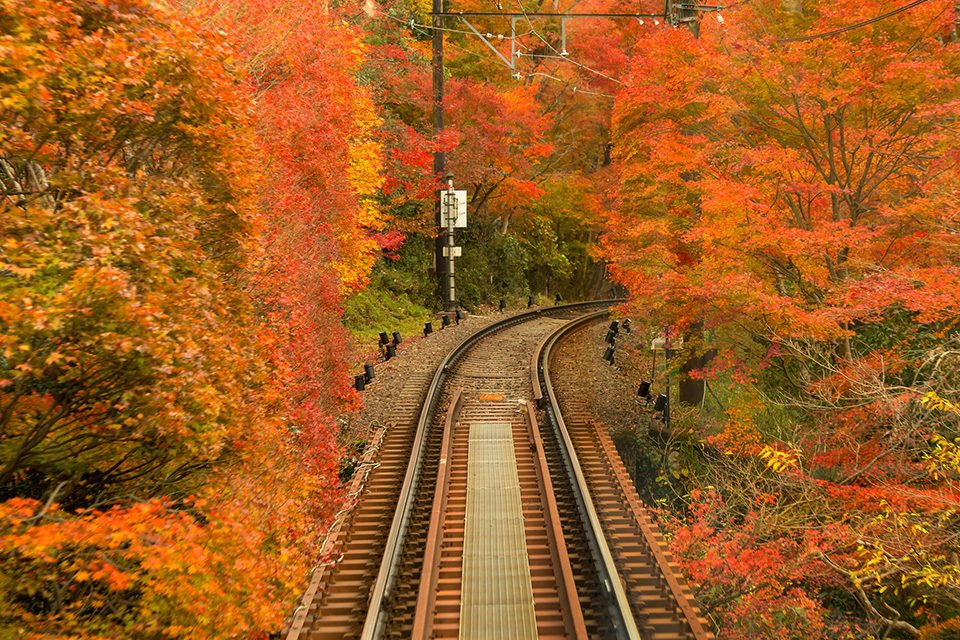 Take the train at Eizan Railway, when the train goes in between Ichihara Station and Ninose Station, passengers can see the red leaves tunnel automatically. Please be reminded that since seats are places oppositely. Therefore it is difficult to take the beautiful pictures. Suggest standing behind the driver or sit aside the driver, then can see the red leaves more clearly. In special KIRARA Train, the central part is fixed with 4 rolls 2-seats chair, as it is with big window facility, then passengers can easily see the outside views. Because of this arrangement, passengers can take nice photos without disturbance on others. The other side is single seat, good for single traveler and passengers can move freely. The KIRARA Train needs not booking in advance. Visitors can take by general ticket. It is about 40 minutes for one. On Wednesday and Thursday, there will be 80 minutes for one. Please check the official website for more information. As KIRARA Train is so famous, during the red leaves period, visitors may have to wait for 30 minutes to have a seat.
The lighten-up activity for red leaves tunnel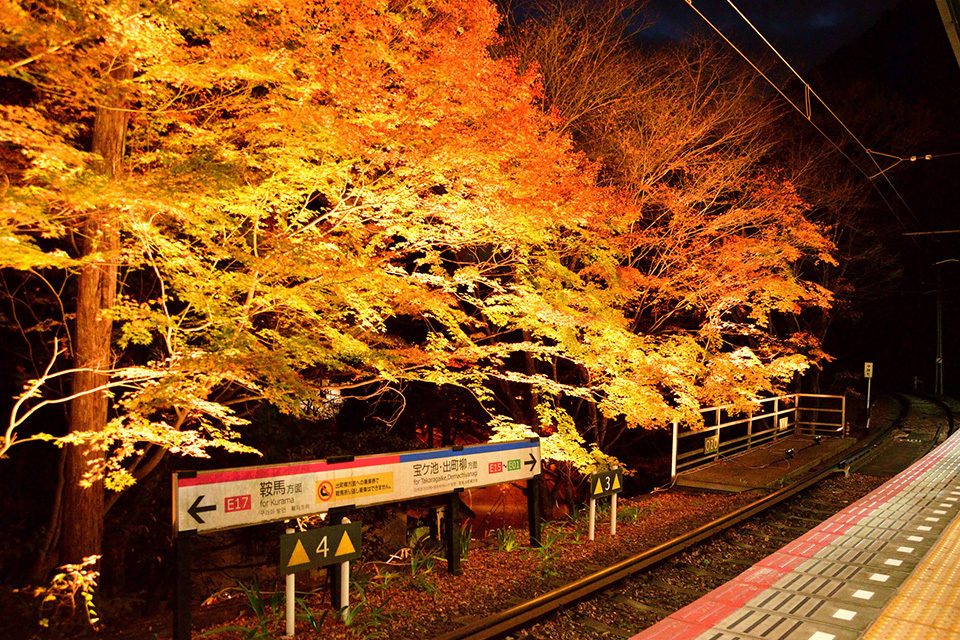 The red leaves tunnel lighten-up activities go together with Kifune Shrine, named "Kibune Momiji Lantern Festival". Refer to 2017, it started from 3rd to 26th November. When the train approaches near the tunnel, speed will be decreased, and the lamps in the in the box seat will turn off. 100 big spot-lights outside the windows focus on the red leaves. The maple leaves look vivid and bright. In general train, passengers can see the lighten-up red leaves, but still recommend travelers taking KIRARA Train to enjoy red leaves as much as possible during lighten-up activity. From 1st July 2018 (Sunday) to 12th August (Sunday), weekend and holidays and 13th to 15th August (Monday to Wednesday), the Eizan Railway held the activity "Blue maple Tanabata lighten-up event".
When is the period of seeing red leaves blooming in red leaves tunnel?
Because the climate will vary, the red leaves period may change every year. Generally it is in Mid November to Early December.
Situation of red leaves period in red leaves tunnel
In weekends of red leaves period are full of people. If it is too crowded, policy of limitation of travelers will be proceeded. If in normal weekday at early time, train to Demachiyanagi Station direction still can travel with composure. Because the lighten-up activities, trains after 8:00pm will be packed with tourists to Kifune Shrine. After finish sightseeing at Kifune Shrine, trains to Demachiyanagi Station will be full too! In night of Sunday and holiday, since employers and students have to go to work or to schools in the next morning, they have to go back home earlier. Trains after 8:00pm will not be that crowded. In November, Eizan Railway will increase train services in the red leaves period, time for train waiting becomes shorter.
Other places for red leaves around red leaves tunnel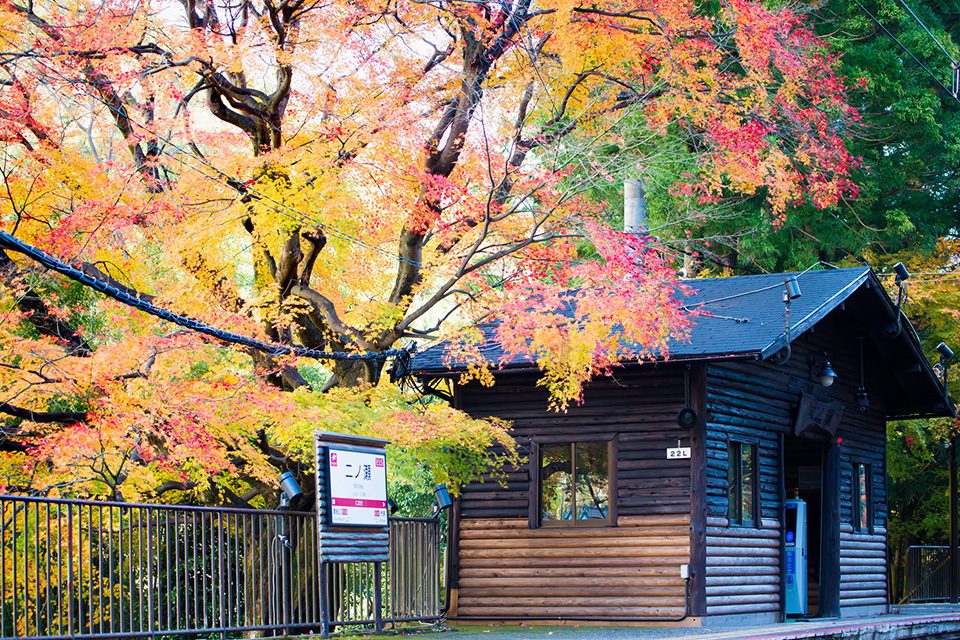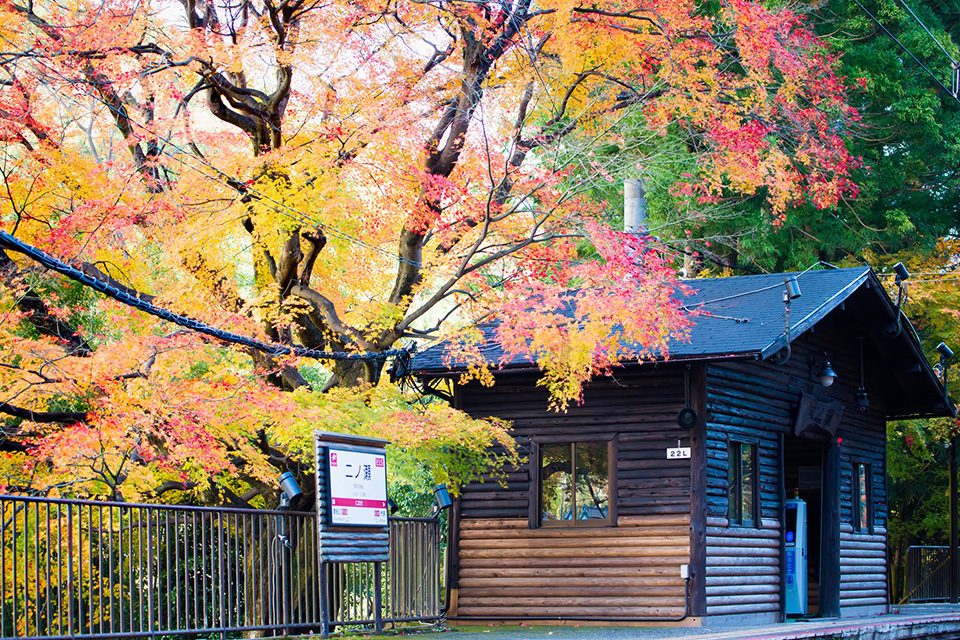 In the period of "Kibune Momiji Lantern Festival", from Kibune Shrine district (Hongu, Yuinoyashiro, Okumiya) to Ryouri Ryokan Street (street with restaurants and hotels), the road is about 1 km, lights will turn on until 8:30pm. From Ninose Station to Kibuneguchi Station of Eizan Railway, lighten-up activity will last until 9:00pm. Whenever talking about Kibune Shrine, people will think the 2 rolls red lanterns on stone stairs. They will be lighten-up too. There are also handmade products market and Yuwami Kagura Festival, a sacred rite and shows to be started. Restaurants in Ryouri Ryokan Street will offer special menu at this period.
Here below is the list of tourist spots by taking Eizan Railway in daytime:
The closest spot to Ichijoji Station: Shisendo Temple, Enkouji Temple The closest spot to Shugakuin Station: Manshuin temple The closest spot to Takaragaike Station: Sekizanzenin Temple, Takaragaike Park The closest spot to Iwakura Station: Jissoin-Monzeki Temple The closest spot to Ninose Station: Hakuryuen Garden (100 visitors per day only) The closest spot to Kurama Station: Kurama-dera Temple Above are places that worth sightseeing. If you feel tired, there are free buses outside Kurama Station to Kurama Hot Spring. Take a rest at here and viewing red leaves in an open spring. Romantic!
Service hours:
lighten-up night event in red leaves tunnel: Sunset to 9:00pm
Fee:
emachiyanagi Station to Kibuneguchi Station: One way: 420Yen for adults, 210 Yen for children
Address:
Eizan Railway from Demachiyanagi Station to Ichihara Station for 22 minutes, to Ninose Station for 25mins.
Epilogue If not taking Eizan Railway, it is no way to enjoy the red leaves tunnel with 250 meters length. And there are many places famous for red leaves along the stops of Eizan Railway. Travelers can plan the trips by using the mean of Eizan Railway, and in the trip to pass red leaves tunnel. Of course, when taking the Eizan Railway, it is fantastic to pass through the lighten-up red leaves tunnel and see the red leaves twinkling in a dark carriage. It is really a marvelous experience. Next time go to Kyoto, please have a look and feel such prosperous red leaves view.