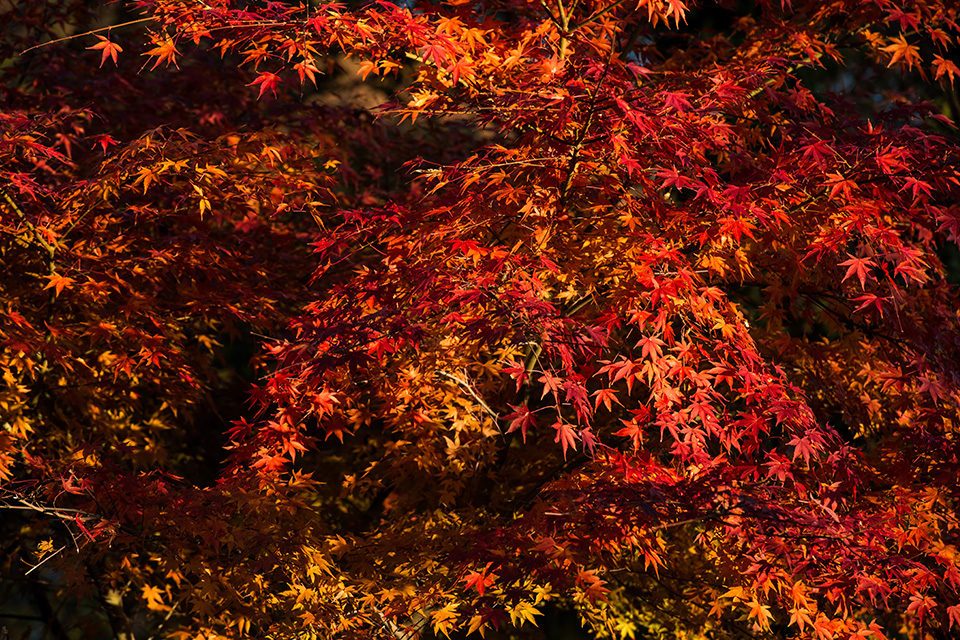 As reputed as representative of "Good wife", Nene (Hikari no Tenshi) the proper wife of Toyotomi Hideyoshi, built this temple for the blessing to his husband. With feeling of the elegant manner of female in Kodai-ji, it is also a place to enjoy autumn foliage.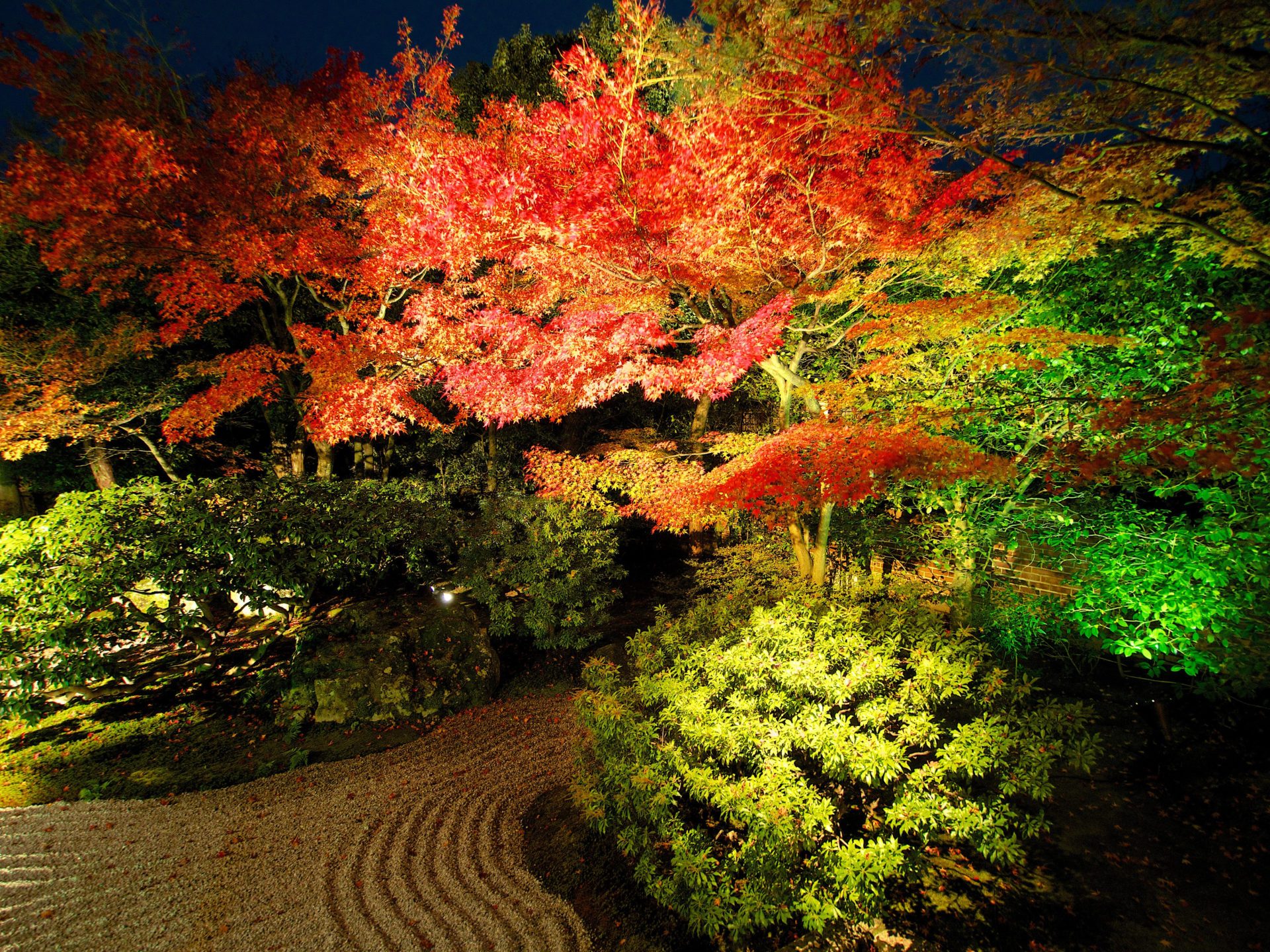 Where suggested for taking photos of red leaves in Kodai-ji?
In Gari Youchi pond which originated by Kobori Masakazu who was famous in Sengoku period. Here to take photos of reflections of red leaves called as reversed red leaves. You can also have nice pictures of autumn foliage in Kaisando, Kangetsudai and Engetsu Pond and the garden at the back.
Lighten-up night tour for red leaves in Kodai-ji?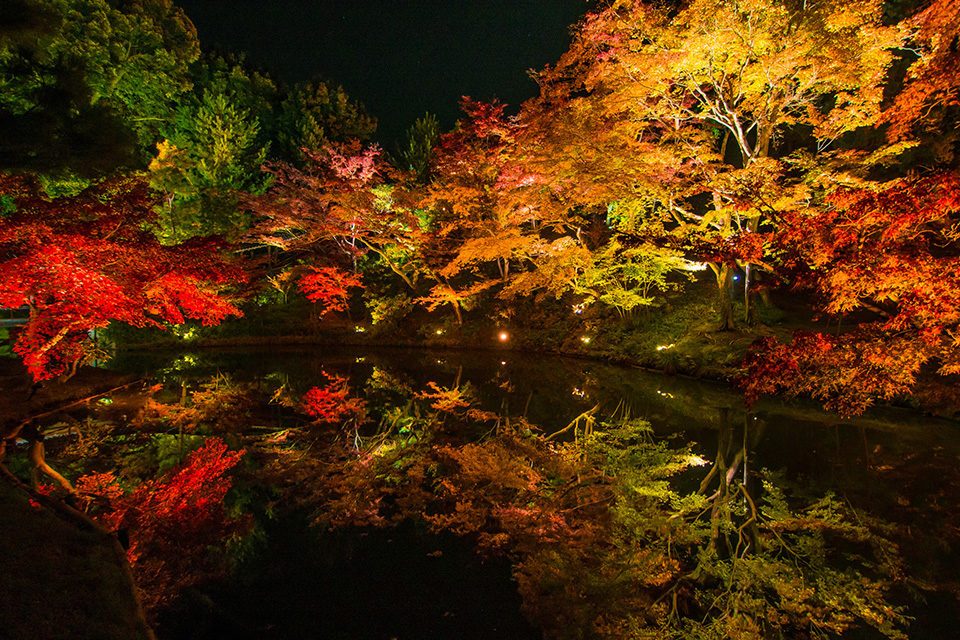 In the Hashintei of the monk master courtyard & Chokushi-mon agte, there are digital lamplights projecting every year to express different themes. It is rather new idea compared with those temples in Kyoto. There are always lighten-up night events in Gari Youchi pond and gardens. Though they are not red leaves, still can make a dreamlike image for the illuminated bamboo grove, it is unforgettable. Because there is no separate ticket for night view in Kodai-ji, so you can stay in Kodai-ji till the sundown. Wait silently for the second of lightening. If time is allowed, suggest coming for night-view. The sceneries after lightened are more beautiful and interesting than in daytime. Please note that during night tour period, a single way movement policy will be processed. If you want to have a comparison of the views in daytime and nighttime, better stay in Kodai-ji and wait until sundown. Also, you can enjoy night-views at the Karesansui dry rock garden in the Tatchu sub-temple Entokuin.
When can you see the red leaves blooming in Kodai-ji?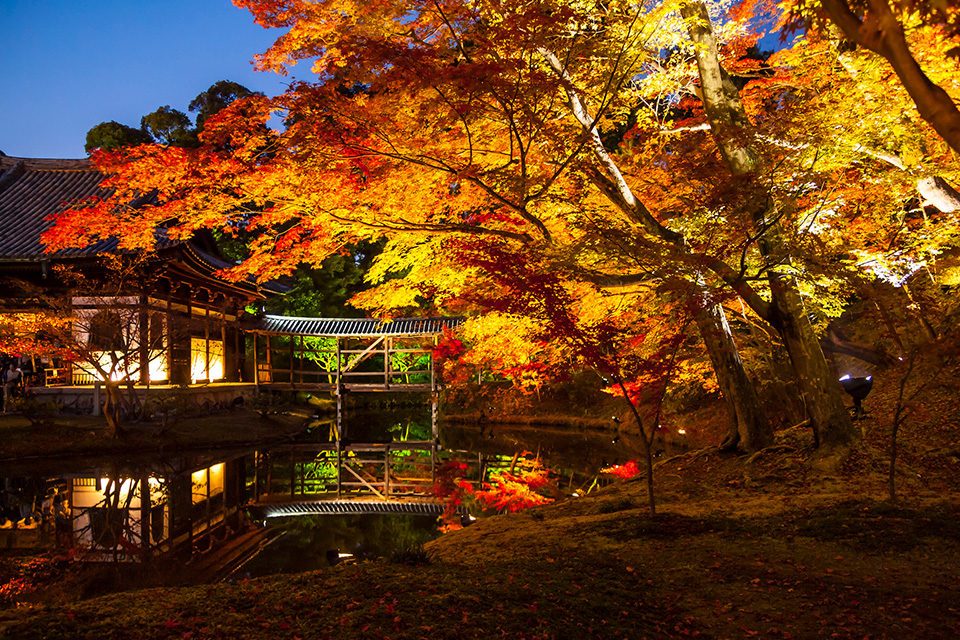 Since the climate varies every year, mostly from mid November to early December. The update news of red leaves can be found in the website of Kodai-ji. Or check other red leaves activities information from internet. So have a look before leaving for it.
How crowded it will be in the red leaves period in Kodai-ji?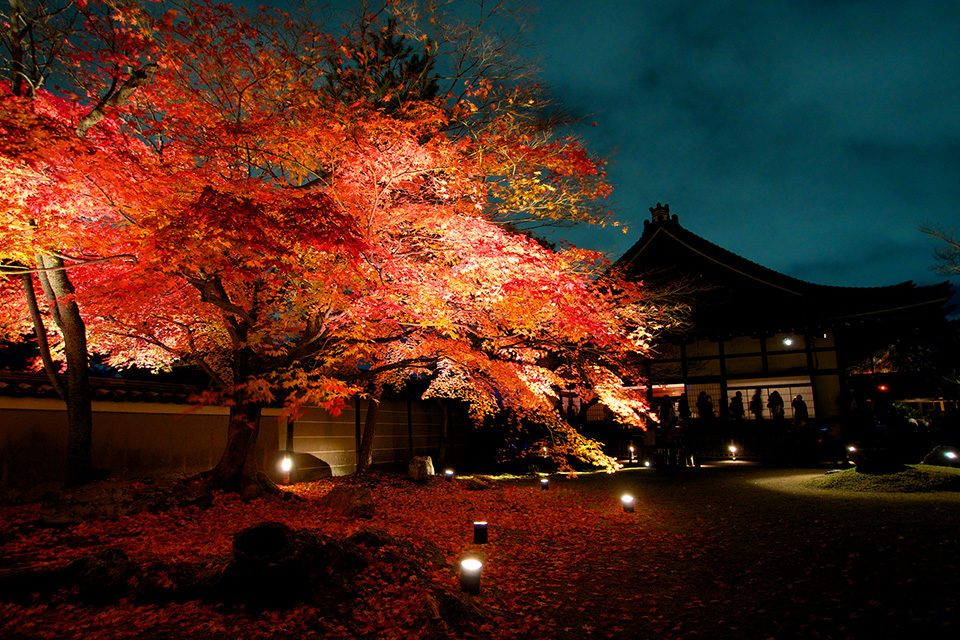 It mostly starts from afternoon, as people come for the night tour. Basically, time after 5:00pm, there will be full of people. As ticket counters are also crowded, to avoid troubles, better buy joint-tickets for Kodai-ji, Entoku-in and Kodai-ji Sho Museum. Since visitors for Entoku-in and Kodai-ji Sho Museum are not so many, buy tickets at these counters are easier. It will not be enough time to visit all the places if you enter there nearly before closing. But if you move in with one hour's time before closure, there are enjoyments for illuminated red leaves with less people in Kodai-ji. If just for general sightseeing, you can come in daytime. Furthermore, during the spring worship activities in 2018, the Nanban decoration at the bamboo pathment is finished. Can walk around there now. If Nanban is also opened to public in autumn red leaves period, it is more easy for visitors to travel to this district.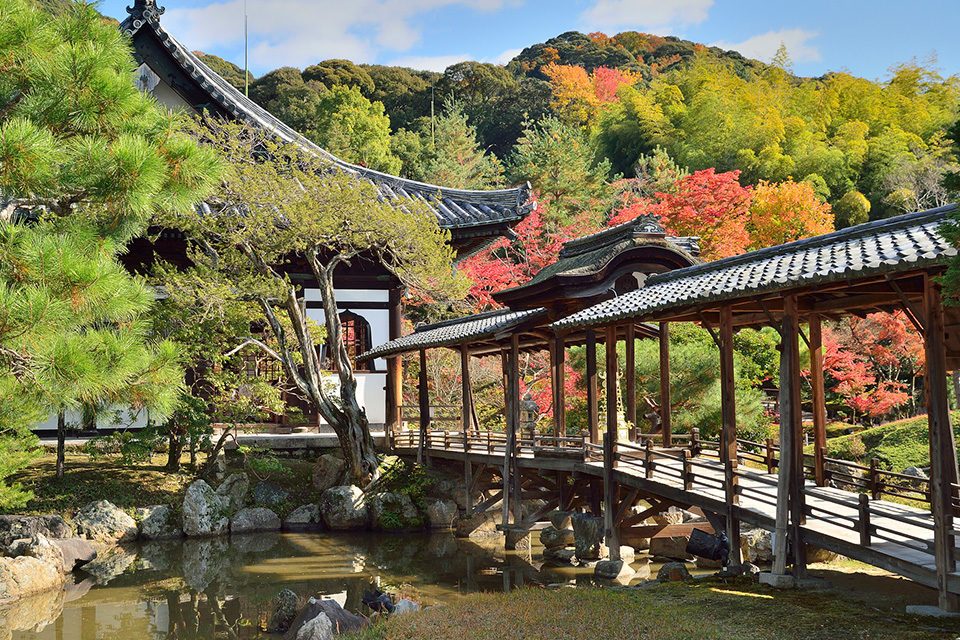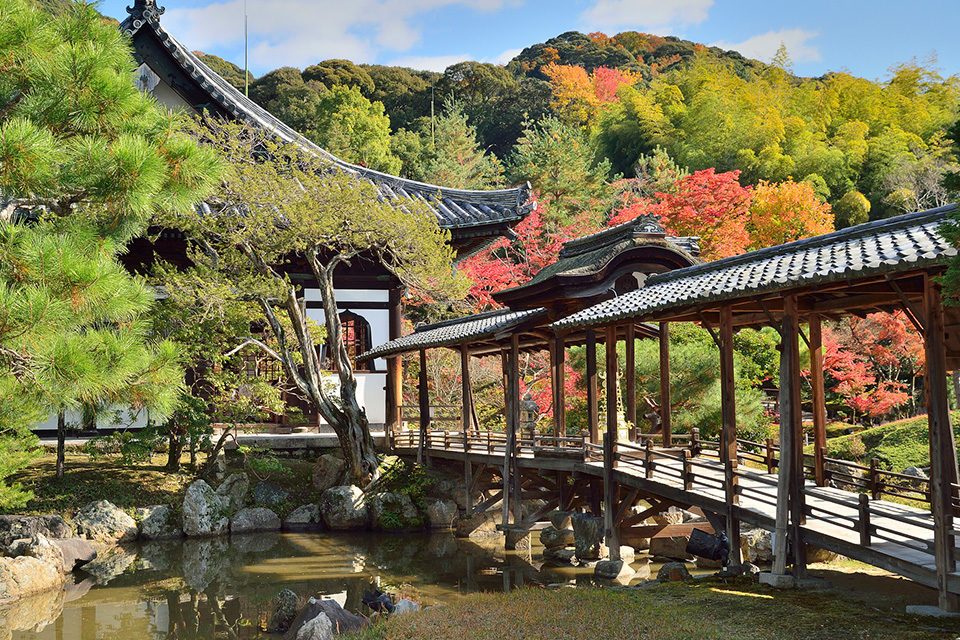 The main door of Shimogawaradori and the Kangetsudai were built with the removal of Fushimi Castle that built by Toyotomi Hideyoshi. In the graveyard of Nene, there is a house for her sprit, a famous painting Kodai-ji Makie for decoration. With the joint-ticket, people can visit the Kodai-ji Sho Museum and there demonstrate the relative arts. Moreover, the ceiling of Kaisando, the ceiling of the Royal cow-cart for Nene, and the ceiling of the boat of Toyotomi Hideyoshi, all of them are with beautiful painting of Momoyama period. The corridor that made by Kobori Masakazu linked up the 2 tea rooms, Kasa-tei and Jiu-tei. The ceiling of Kasa-tei is like an opened bamboo-made umbrella. Jiu-tei is a precious 2 decks building with thatch roof. The Tatchu sub-temple Entokuin was built with the removal of Keshou Udun (the house for Nene & Toyotomi Hideyoshi) of Fushimi Castle (the castle built by Toyotomi Hideyoshi in Kyoto when he unified the whole Japan). The front courtyard was also taken from the courtyard of Fushimi Castle. They were rebuilt by Kobori Masakazu. Visitors can enjoy "Furuta Style", a special Japanese way of tea, originated by the famous Furuta Oribe in Sengoku period. Also the snack Sennaribyotan, a sennari gourd shaped which is the stamp (Uma-jirushi, means horse insignia) of Toyotomi Hideyoshi.
Red leaves spots nearby Kodai-ji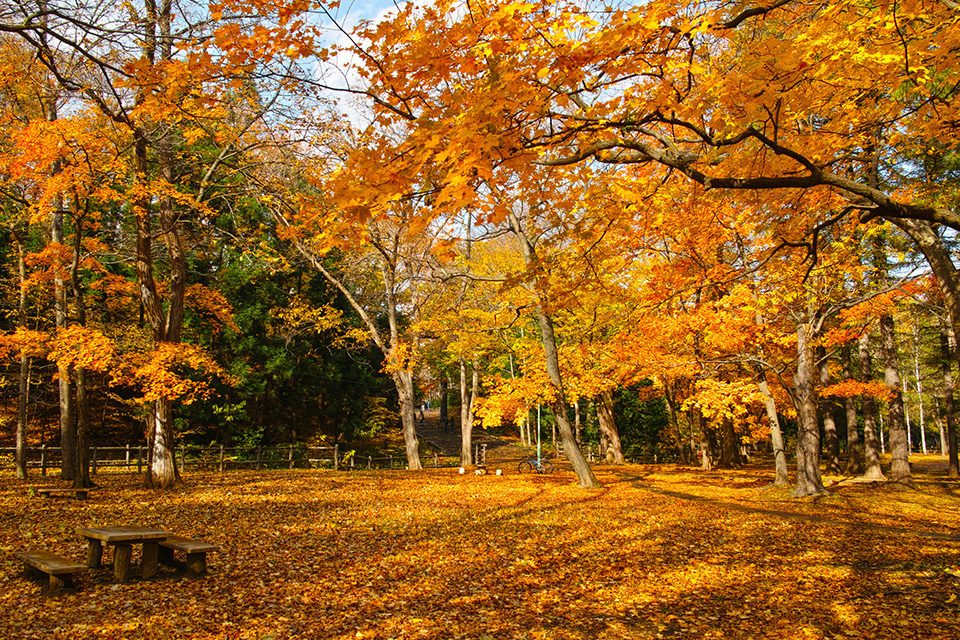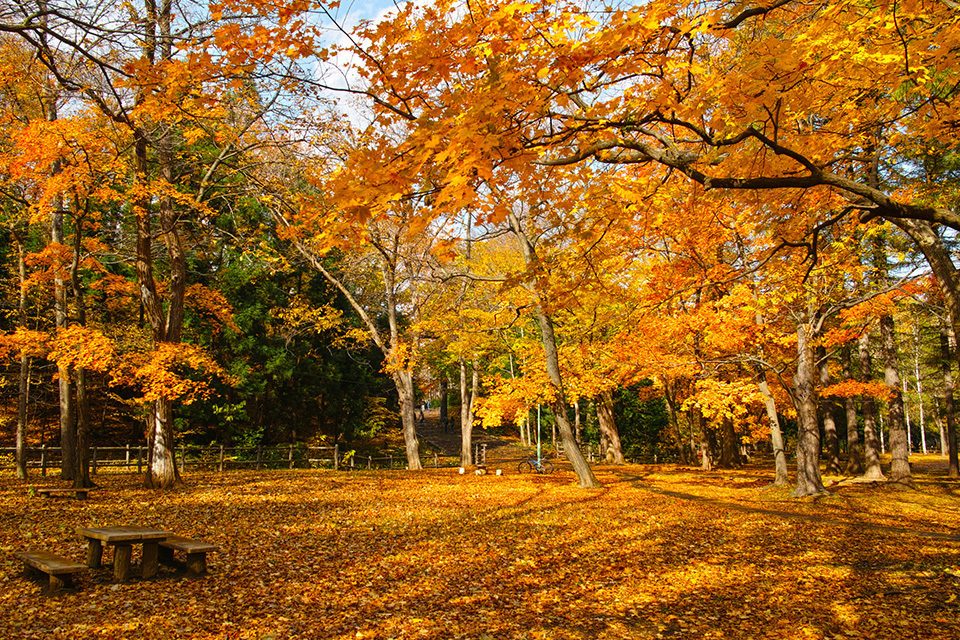 Maruyama Park
This is a garden set up by Ueji Ogawa Jihei VII. You can see the red leaves of Acer palmatum trees around Gourd Pond and the statues of Sakamoto Ryoma and Nakaoka Shintaro.
Sorin-ji
Sorin-ji is located at the south of Maruyama Park. At south of Sorin-ji, there is a thatch roof Kagetsuan. It was the place that Saigyo Hoshi, a good singing monk in late Heian period. Around there are nice views of red leaves.
Choin-in
It was built for the 300th anniversary of the birth of Miyazaki Yuzensai, the originator of Japanese dying technique named Yuzen, in the year 1954AD (Showa period 29 years). It was renewed as Yuzen Garden and lighten-up events are held. 200 acer palmatum trees were planted in Choin-in. Places outside garden are free of charge in daytime. It is easy to admire autumn foliage here.
Opening hours: 9:00am to 5:30pm (Last entrance 5:30pm) Lighten-up event: 21st October to 10th December: After sunset to 10:00pm (Last entrance at 9:30pm) (No need to buy the extra ticket for night tour) Fee: 600Yen for adults, 250Yen for secondary school, Combined ticket (Kodai-ji, Entokuin, Kodai-ji Sho Museum) : 900Yen Entokuin: 500Yen for adults, 200Yen for secondary school, free under primary school
Address: 5
26 Shimogawara-cho, Higashiyama-ku
Get off at Higashiyama Yasui Bus Stop by City Bus, 5 mins walk
Car park: Touhenboku Kodai-ji : 150cars. Can reserve before 2 months, maybe no instant parking during red leaves period
Epilogue Both Kodai-ji and Entokuin are famous for red leaves. Suggest buying joint-ticket to move it. The most convenient and cheapest way to enjoy songs from red leaves with the autumnal winds.