To enjoy red leaves sceneries even in rainy day. Suggest visiting those places can see the beautiful red leaves views indoor. And therefore no need to admire with umbrella outdoor. Here followings are 5 sightseeing places that are able to enjoy fall foliage even in rainy day.
The importance for looking for red leaves in raining time
In red leaves period, even no rain in Kyoto, it is still cold. Sometimes blowing freezing wind, it is a must to wear enough clothes as reasonable protection. In case when you are out and it rains, choose an indoor sightseeing spot. Relatively can enjoy autumn leaves easily and avoid the troubles to admire red leaves with umbrella outdoor.
Recommended red leaves tourist spots in rainy day
You have decided to watch red leave in Kyoto, but the weather forecast says it is going to rain. What an accident! Although feeling excited, it is for sure that felling disappointed too. Don't worry, there are the Kyoto spots to enjoy red leaves in rainy day.
Unryuin Temple
This beautiful temple is where the famous TV advertisement takes place, but unexpectedly there are not that many tourists. It can be said as a hidden spot. Even not in rainy day, there is still worth a visit. There are different kind of windows like "Window of enlightenment" and "Window of Confusion". They are praised as "Views of Paper Windows". Visitors can appreciate the beautiful views through the Japanese traditional paper windows. When enjoying the autumnal atmosphere in the garden, can also taste the Matcha and experience writing Buddhist scriptures with the "Dida" raining sound. The red leaves period of Unryuin Temple is from mid to late November. Since it is very close the Kyoto Station, it is easy to go here.
Hosenin Temple
The red leaves in Hosenin Temple start to change color around mid November. The best scenery of autumnal leaves will be at late November. The most important "Picture Framed Garden" is located at guest hall. Posts side by side, crossbeams and floors create a photo frame. Almost everyone will take photos from here to outside. People can sit on tatami to enjoy the colorful autumn leaves in the garden, and at the same time to enjoy green powder tea and cakes, spending over a luxury time. There are lighten-up activities at night. Visitors can feel different red leaves image from daytime.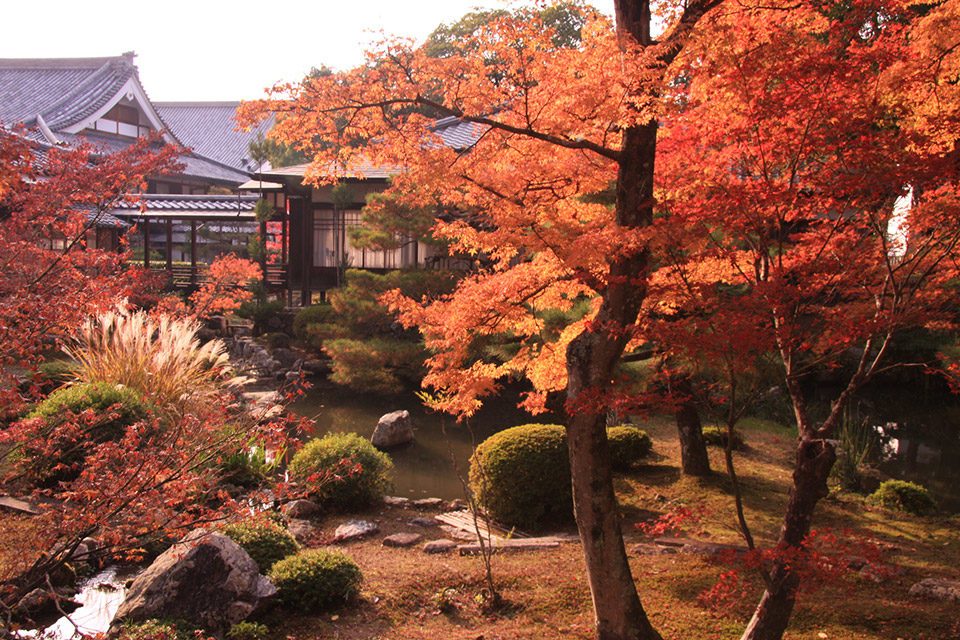 Daikaku-ji Temple class="alignnone size-full wp-image-4588" itemprop="image"/> It takes 20-30 minutes from Saga-Arashiyama Station to reach here. It is a place for holidays built by Emperor Saga (786-842 AD). Around Osawaike Pond are the famous side by side sakura trees. In red leaves period, the leaves are dyed in red or yellow. They are very bright and eye-catching. The natural sceneries around Daikaku-ji are very pretty, with the historic building expressing the charm of fusion of nature and historic building. Because all the buildings in the temple are linked up with corridors, visitors can visit happily even in raining days. The red leaves period at Daikaku-ji is from mid November to early December.
Manshu-in Temple
It was built in 767-822AD by monk Saicho of Tiantai school. The vast garden is in the center of the huge hall. It expresses the beauty of Japanese Karesansui dry rock garden. No need umbrella to admire autumn leaves even in raining day. Because there is far away from Kyoto city, especially after 7:00pm, few visitors will come only. So if you here at such time,, almost solely own the whole place. Can release your mind, freely enjoy Kyoto autumn foliage. The lighten-up activity here uses dim lights so it seems like being lightened up by moon light and creates a secluded atmosphere.
Jisso-in Temple
The red leaves period here generally is from early November to early December. It lasts about 1 month. The autumn in Jisso-in has the famous scenery. That is the reflection of red leaves from outside into the room and named "Maple Floor". The form of "Maple Floor" is because the tables for writing text and the floors are polished so shinny that can reflect the red leaves from outside. It is so beautiful that visitors will be impressed. Generally, we can see many reflections of red leaves from ponds, but it is unique of reflection from floor. Let us take the sound of rain drops as the music, and admire the precious scenery at here.