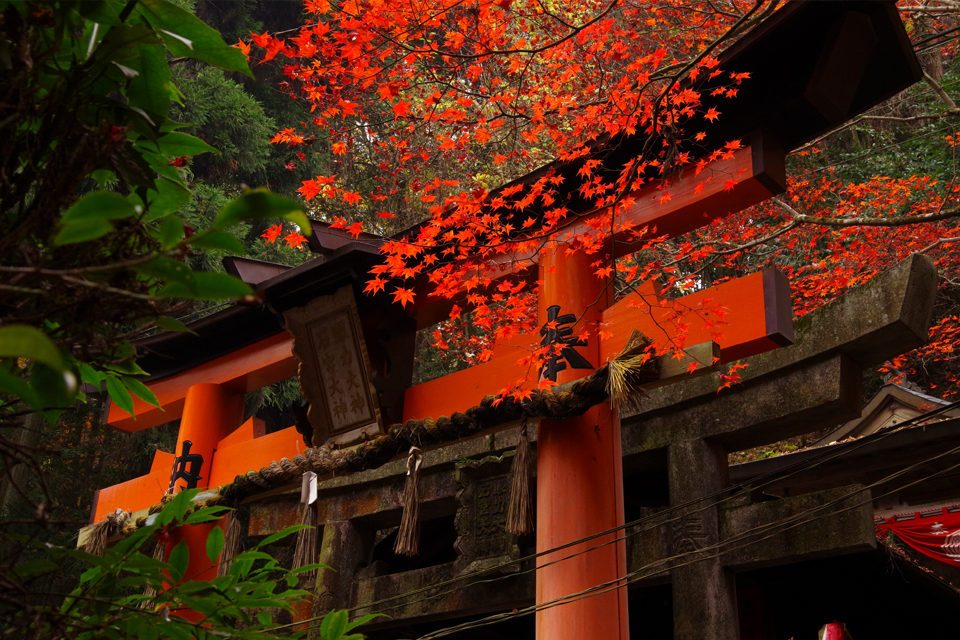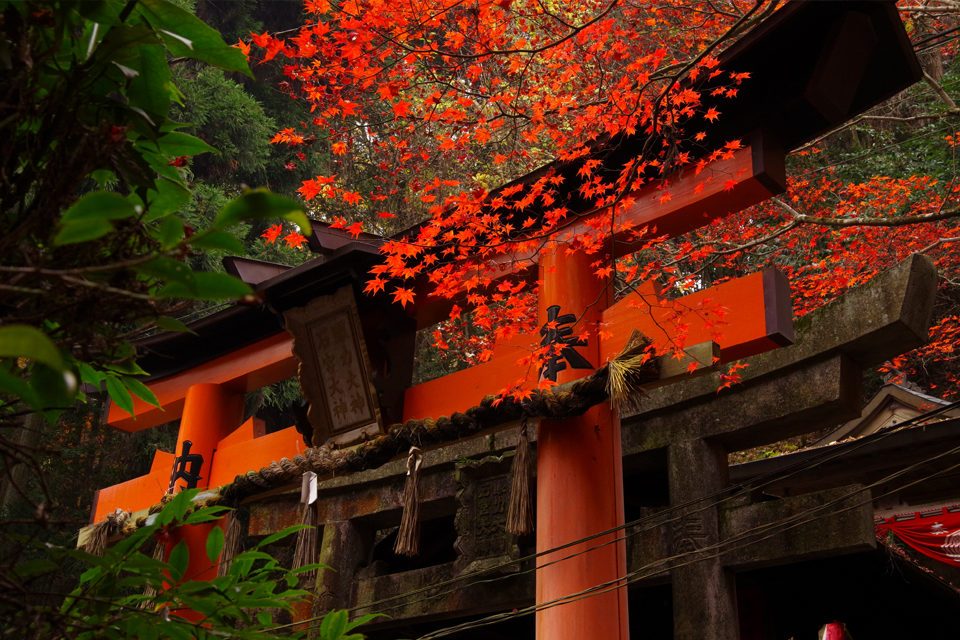 Fushimi Inari-taisha Shrine is the No.1 sightseeing point in Kyoto in view of foreign visitors. But there is not that famous for fall foliage views. However, when you see the sceneries of red leaves here, you will be shocked. Around Fushimi Inari-taisha Shrine also has many places for red leaves, suggest take a visit too!
Which places are suggested to take photos for red leaves in Fushimi Inari-taisha Shrine?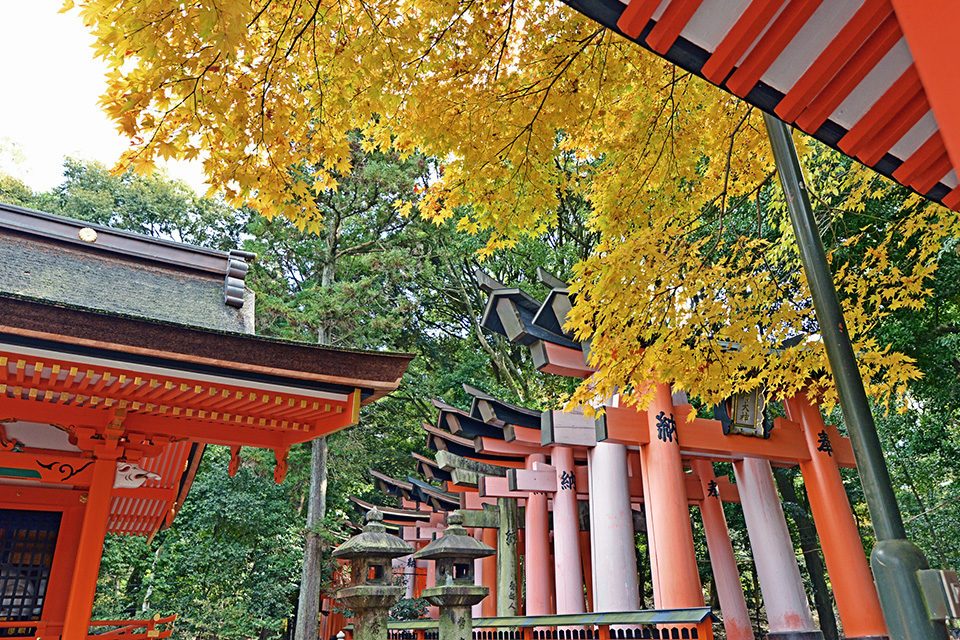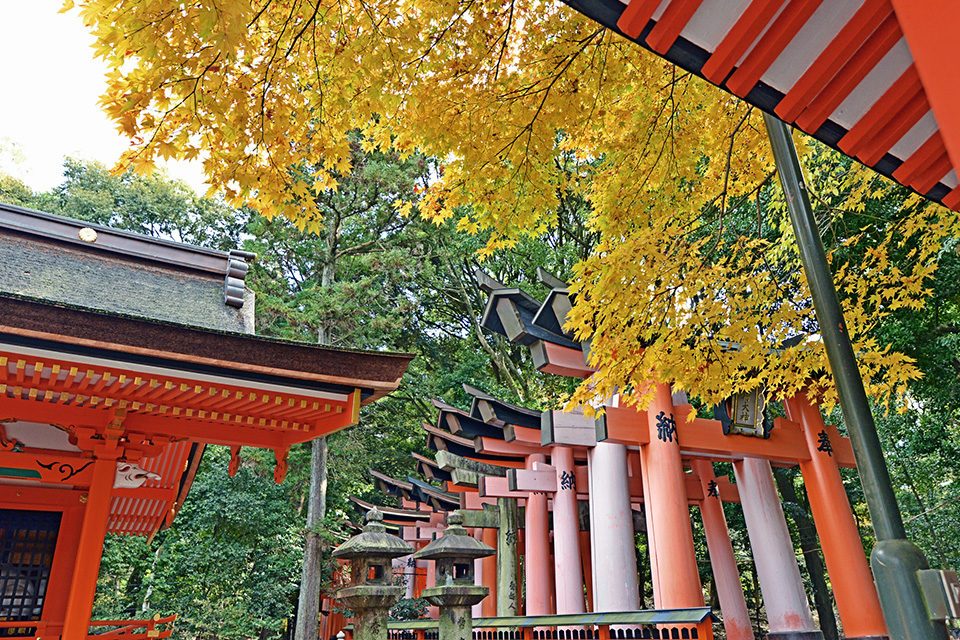 Whenever thinking Fushimi Inari-taisha Shrine, will immediately think about the red color Senbon Torii (thousand torii). It is located near the main door. Take photos of it together with red leaves. Every picture will be beautiful. Both sides of the pilgrimage's path to the main hall are also good for red leaves photos. Nearby Okusha Hohaisho will get the path for hiking. They are called as Oyama Meguri. There are also full of autumn foliage. From Senbon Torii move onward to the hill, you can reach Yotsutsuji where visitors can observe Kyoto and red leaves all in the eyes. Go little bit further is Ganrikisha. You can also find a reversed stand fox statue for taking photos with red leaves. If you do not want to go to the hill, and go along another path, you will arrive Tamayama Inarisha, from the passage at the left, you can also find a fox statue to have photos with red leaves, that can be a beautiful scenery picture. There are also many recommendable red leaves view points around the pond. In the Yashima Pond, the Teichoan was built in December 2017AD (Heisei period 29 years) for taking rest. Visitors can see the autumn red leaves in the public seats. If want to admire red leaves in Osanbaike, consider to observe at the balcony of Verminlion Café. It is near there. There is Shinike on the hill, also can have sights of red leaves.
The lighten-up night touring of Fushimi Inari-taisha Shrine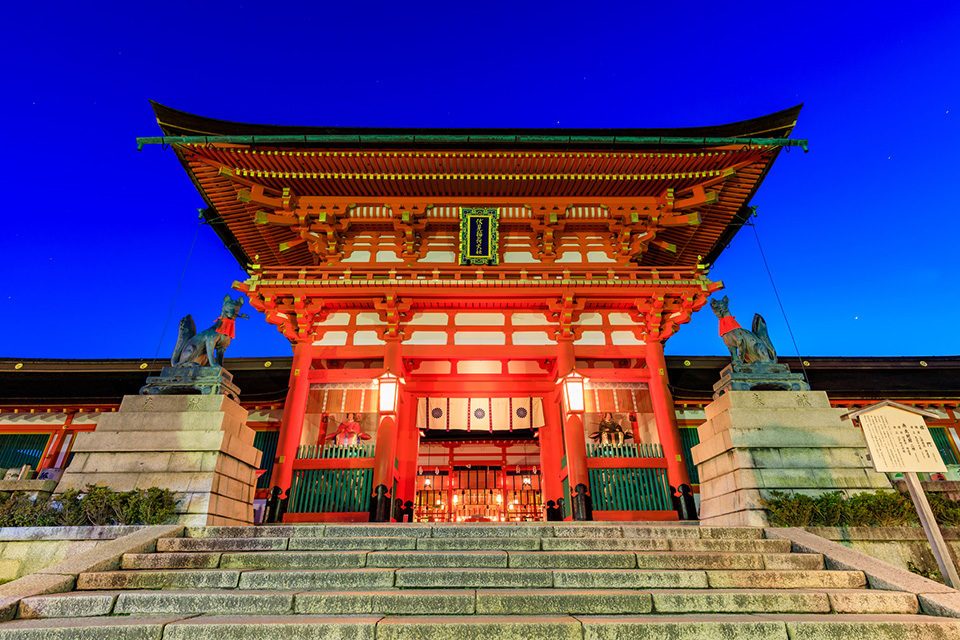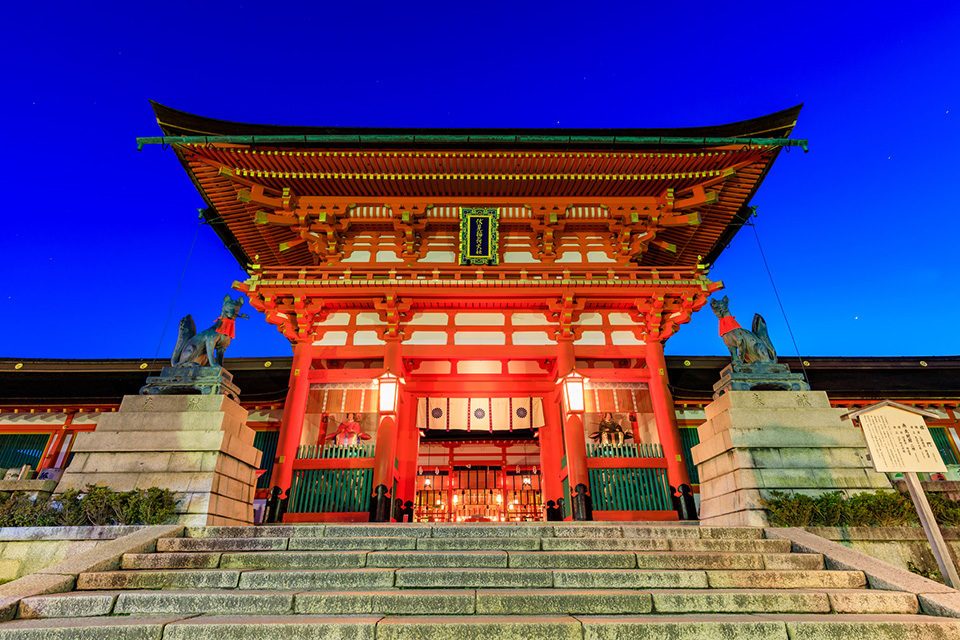 It is a pity there is no lighten-up event in Fushimi Inari-taisha Shrine. But since it is opened for 24 hours, there are lanterns for illuminating the roads. However, since without bright lamps to light up the red leaves, if you want to go for red leaves, better before sunset.
What is the time for seeing the red leaves blooming in Fushimi Inari-taisha Shrine?
Since the climate varies every year the time of red leaves will change, mostly from mid-November to early December.
How crowded in red leaves period in Fushimi Inari-taisha Shrine?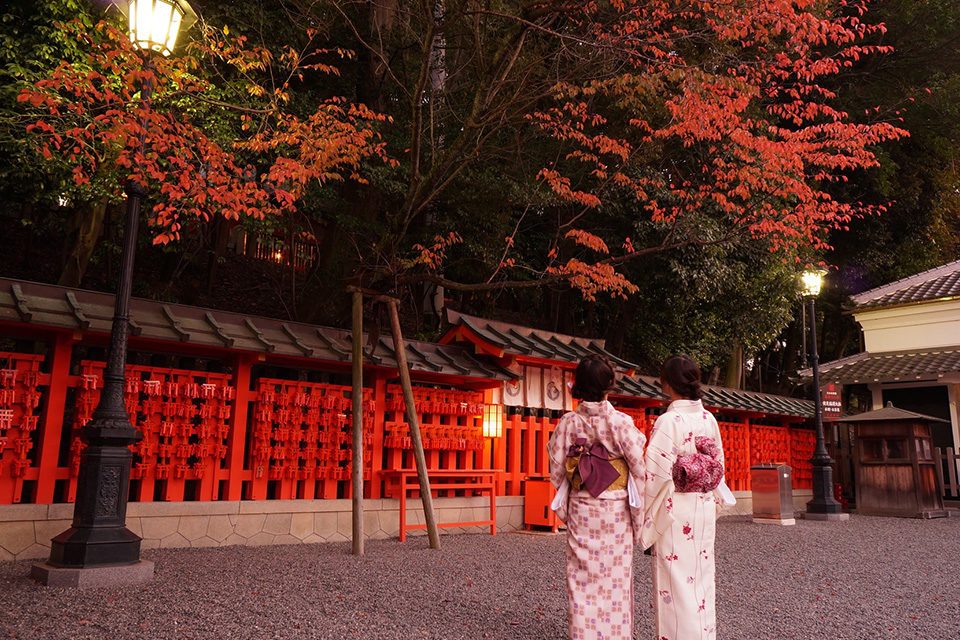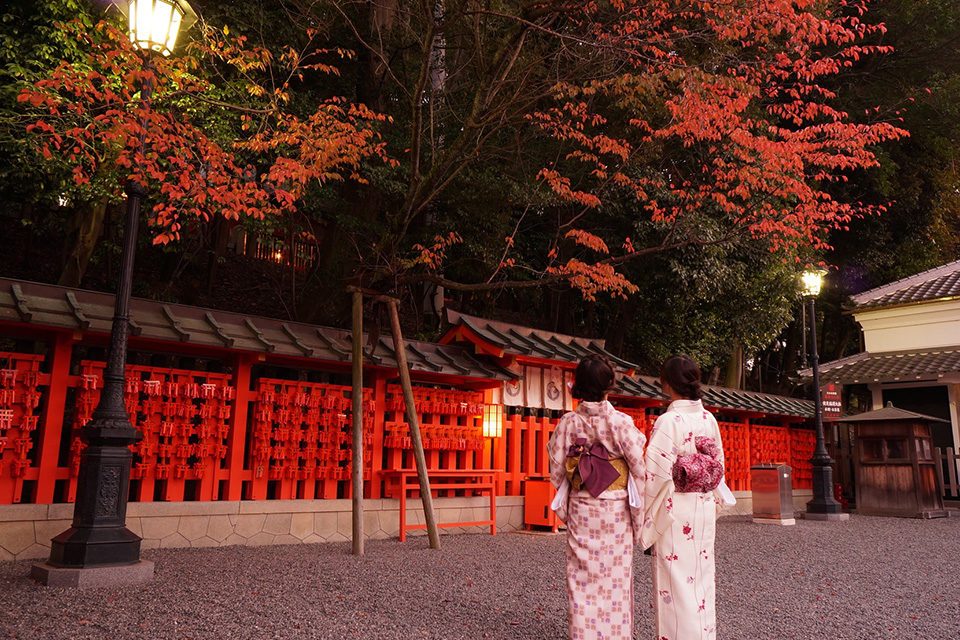 Since Fushimi Inari-taisha Shrine is a hot place for red leaves in Kyoto, so full of people in red leaves period is normal. Because there are opened for public in 24hours, if you are not going for office services or shopping near those shops in front of the shrine main door, it will not be a matter of crowded. Even you can visit the shrine in the early morning, you can spend the time as your plan. In comparison of daytime, visit after sunset is not that crowded. Anyway, after 23rd November will be full of people until early December as red leaves peak time finish
The features of Fushimi Inari-taisha Shrine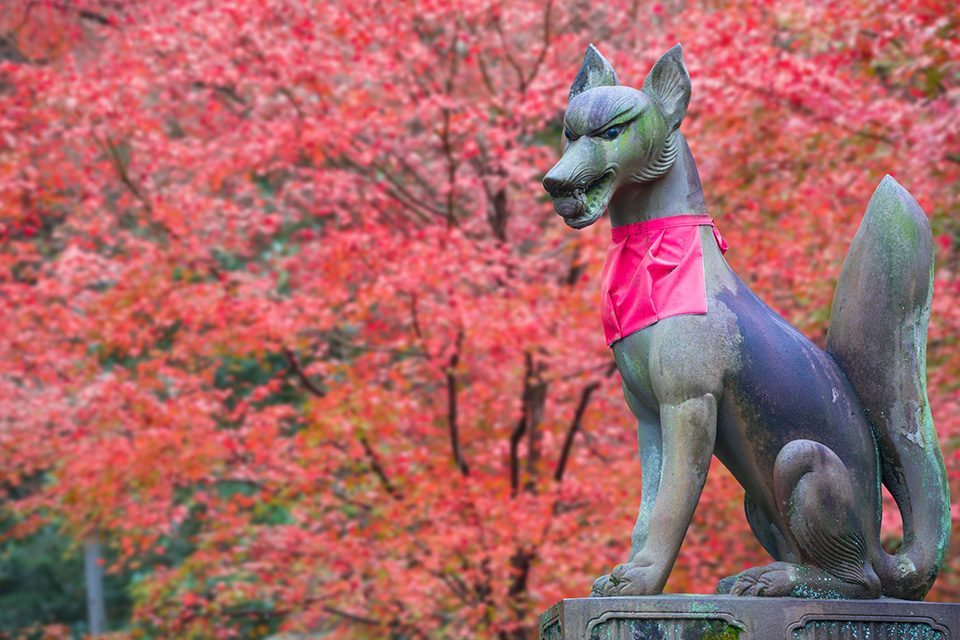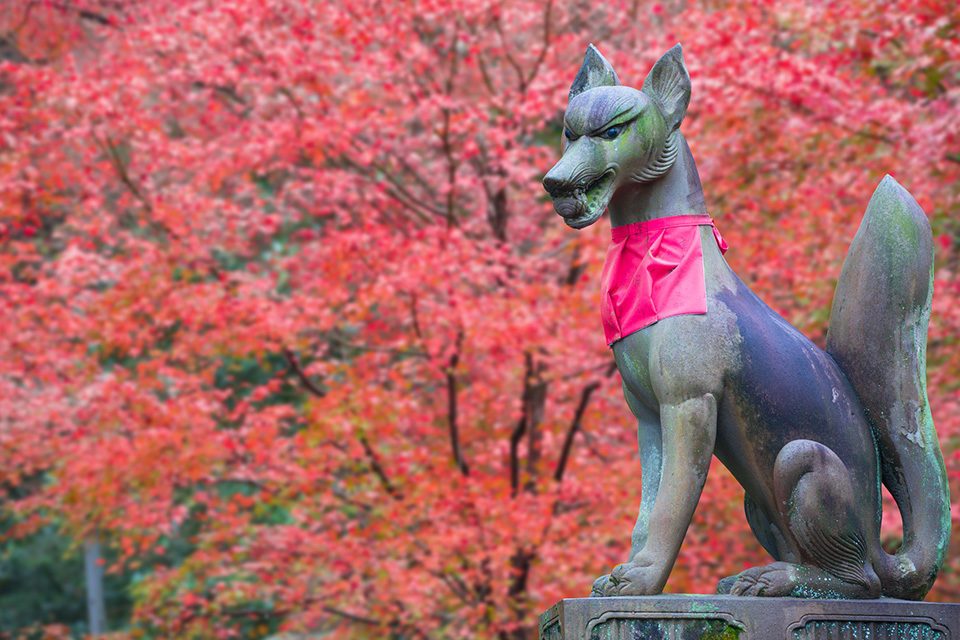 Most visitors going to Fushimi Inari-taisha Shrine will also go to Oyama Meguri. Even not climbing up to the peak, still go to Yotsutsuji to enjoy the scenery at the platform and then return. There is a supplicating rule in Okusha Hohaisho called Omokaru Stone. There is a stone on the top of the stone-crafted lantern, the prayer bring up the stone when praying, if it is lighten than imagination, the wish will come true. If it is heavier, the wish will fail. The doors at the main building will be illuminated, you can get fantastic feeling. At both side of the pilgrimage's path are shops, Inari Senbei (crackers) and Fushimi Dolls are good for souvenirs, and you should try the street snacks.
Other places for red leaves around Fushimi Inari-taisha Shrine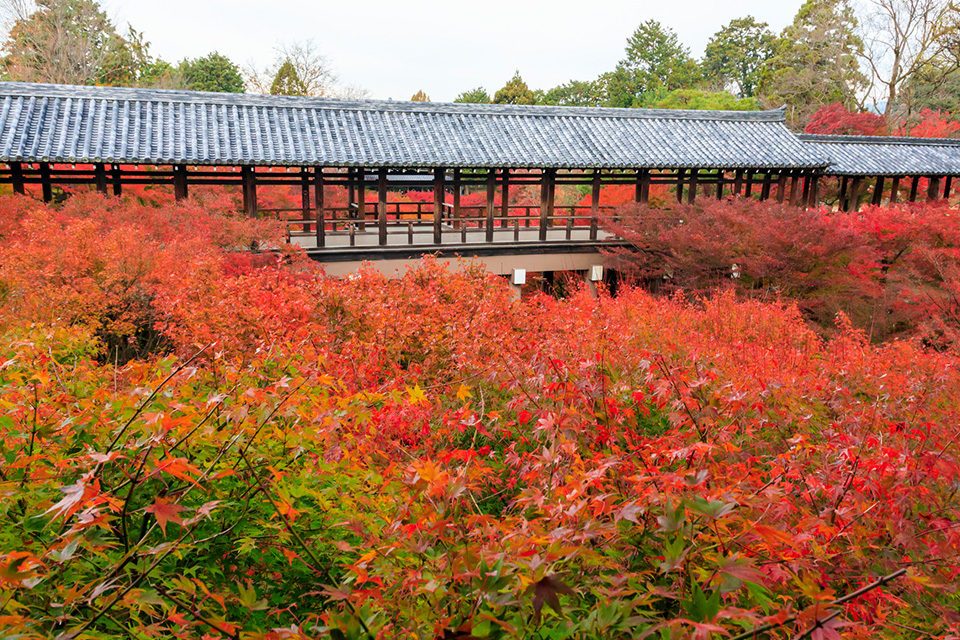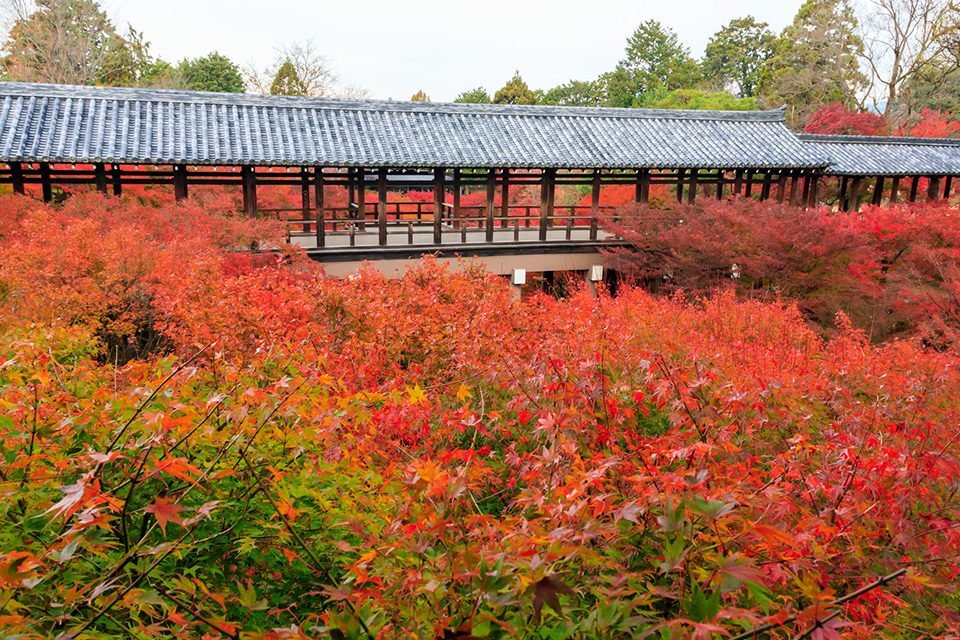 Tofuku-ji Temple
It is the top ranged red leaving sightseeing place in Kyoto. Can go to there from Nobuhiro. The most popular place for red leaves is Tsutenkyo Bridge, and will proceed limitation of tourists. Suggest to go there in morning time. From 1st November to early December is not allowed to take photos on Tsutenkyo Bridge and Gaun-kyo Bridge, so mid December will be a good consideration. The Tatchu sub-temple Komyo-in Temple is also a good place for red leaves sights.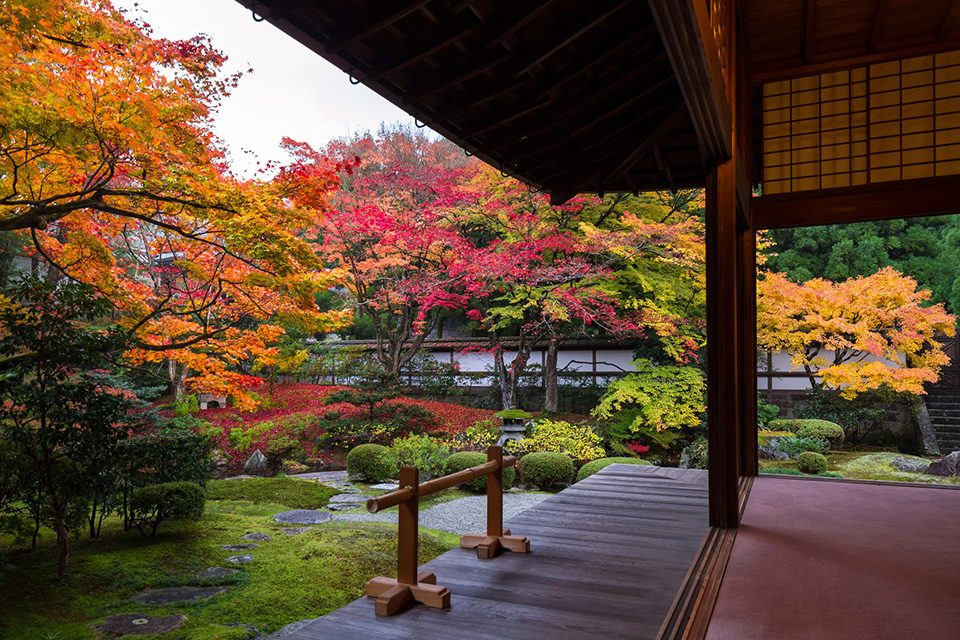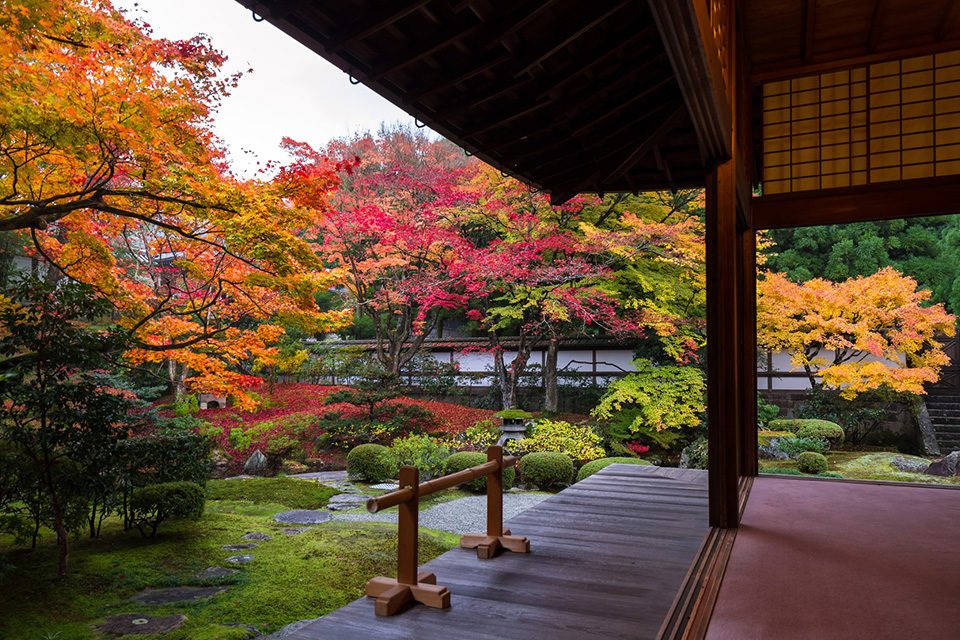 Sennyu-ji Temple
Same as Tofuku-ji, can go here from Nobuhiro. Because the statue of getting beauty named Yang Guifei Guanyin (Kannon) is at here. The red leaves at Gozasho Garden make here more well-known. Other than there, the Tatchu sub-temple Unryuin and Imakumano Kannonji in Sennyu-ji are also famous for fall foliage. The round shaped Windows of Enlightenment and square shaped Windows of Renge in Unryuin are special places for red leaves too.
Sekihoji Temple
The symbol of Chinese red door is eye catcher. There is famous for the picture Five Hundred Arhats drew by Ito Jakuchu in middle Edo period. And here is the grave of him. Please be aware the picture Five Hundred Arhats is not allowed for tourists to take photos or draft taking, as it is full of peaceful feeling. There is also a hidden place that is good for red leaves. If taking visit of Fushimi Inari, you must go here to have a look.
Opening hours: 24 hours Fee: Free
Address:
68 Fukakusa Yabunouchicho, Fushimi-ku
Get off at Inari Station by JR nara Line
Get off at Fushimi Inari Station by Keihan Railway, 5 mins walk
Get off at Fushimi Inari-taisha Bus Stop by City Bus, 7mins walk
Epilogue Though Fushimi Inari-taisha Shrine is specially welcomed by foreigners, experienced visitors of Kyoto still visit again for many times. It means there is really an attractive place for sightseeing. There are many tourist spots for red leave in Fushimi district, why not refer to these articles and arrange a trip of red leaves in here?