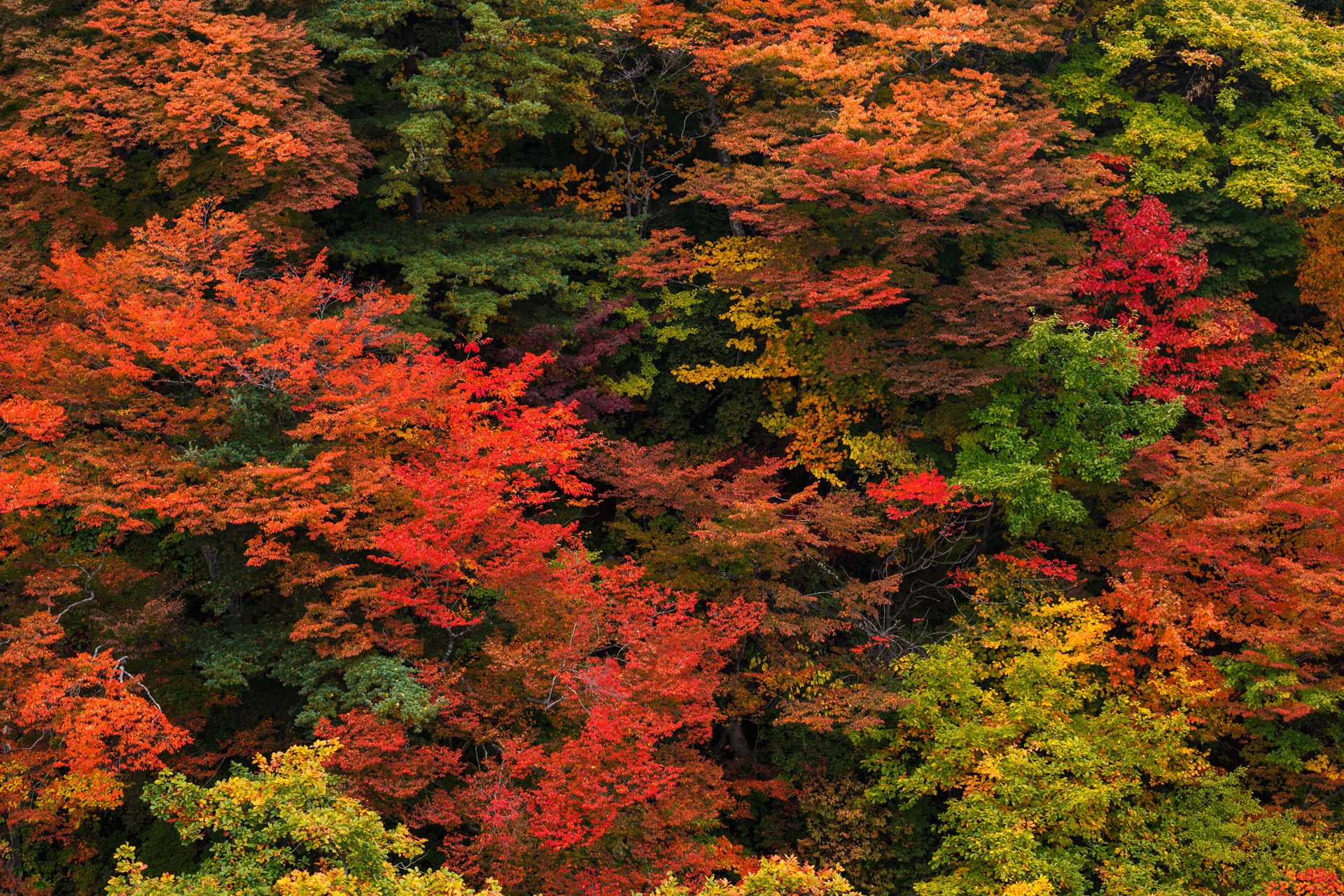 Tofuku-ji is the place that must be listed for visiting red leaves in Kyoto yearly. The name of Tofuku-ji was taken from one word of Todai-ji & Kofuku-ji of Nara. This group of giant temples was built by Kujo Michiie (1193-1252). The first monks master was Enni. Around there are 25 Tatchu sub-temples. A lot of visitors will come here in red leaves period. Let us offer more red leaves news about Tofuku-ji this time.
Where is the best place to take red leaves photo in Tofuku-ji?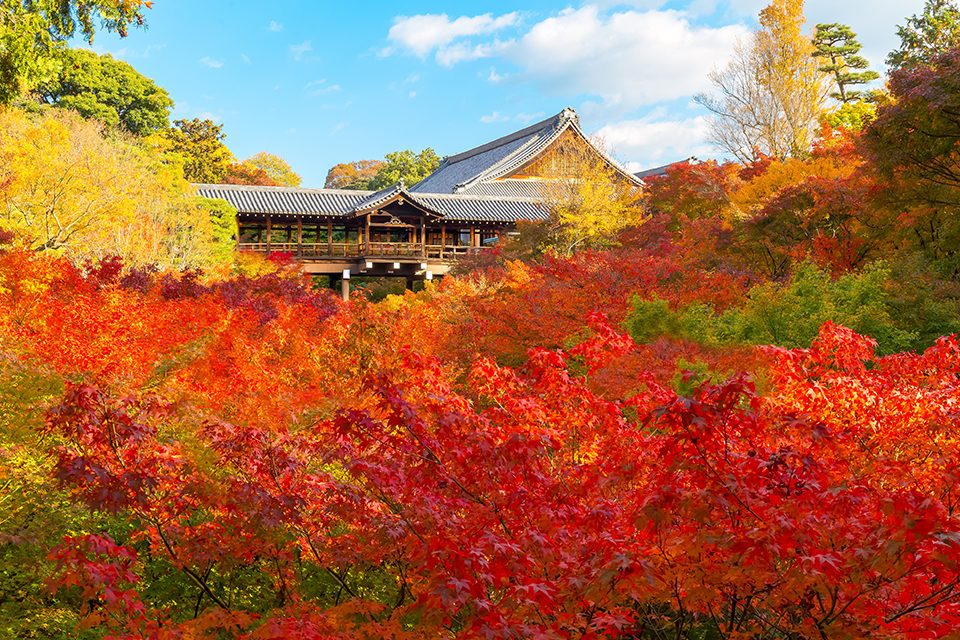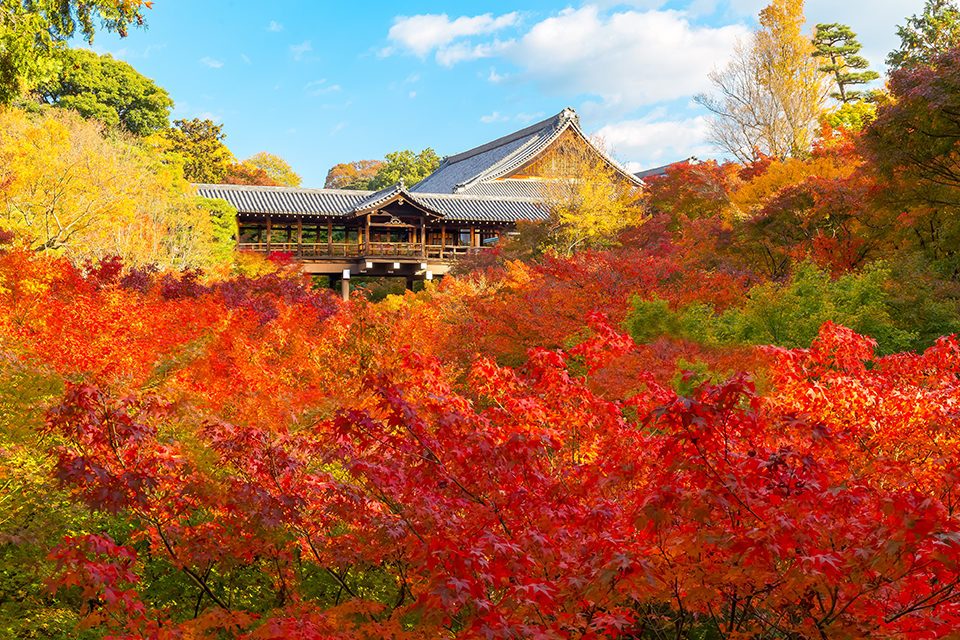 In Tofuku-ji, there are 2000 maple trees that were planted by Enni who learnt from Sung Dynasty. They were named "Tsuten Momiji". The most popular red leaves tourist spot is Tsutenkyo Bridge(通天橋)where links up the main Honbo hall and Kaisando hall. Look down from the bridge, red leaves will fill up your eyes. Here is the sceneries of the stream valley of Sengyokukan (洗玉澗). If go to Gaun-kyo Bridge (臥雲橋) that is a bit outside of Tofuku-ji, you can have long distance full sight of the Tsutenkyo Bridge across Sengyokukan . It is a pity there is not allowed to take photos on the Tsutenkyo Bridge and Gaun-kyo Bridge during the days between 18-26 November since 2017. Tsutenkyo Bridge was built on 1961 (Showa period 36 years), and Gaun-kyo Bridge was a wooden bridge made in 1847 AD (Koka period 4 years) with cover. So must be careful. In the special open to public period in autumn, 1st November to early December is not allowed to take photos of red leaves of Tsutenkyo Bridge to Gaun-kyo Bridge. If you want to take beautiful pictures, you should come before or after the date. However, takes walks on Sengyokukan and enjoy red leaves are able to take photos. Therefore, you can consider to take pictures from Sengyokukan upwards to Tsutenkyo Bridge and around it as another position. The garden designer Mirei Shigemori created Honboteien (Honbo Garden), and the north garden is very special. The garden looks like the chess-board (small-sized chequered pattern) and can have enjoyment of red leaves. In the red leaves period, there is a hidden place for red leaves viewing. That is at the upper area of Tsutenkyo Bridge named Engetsu Bridge. It is wooden bridge built in 1603 AD (Keicho period 8 years) with cover in the path from warehouse to Ryougin. On the bridge can see some red leaves of Sengyokukan and can take photos. Ryougin is only opened to public in red leaves period and spring. This was a top class combination of Karesansui dry rock garden and red leaves made by Mirei Shigemori.
The lighten-up night activities for red leaves of Tofuku-ji
It is pity that no such activity in Tofuku-ji. Only be held in the Tatchu sub-temples Tentokuin and Shourin. Tentokuin starts from 5:00pm to 7:00pm with dinner ticket. It charges 4320Yen per person. (Entrance Fee 500Yen + Food 3800Yen with tax). Shourin charges differently for different nights.
When is the blooming time of red leaves in Tofuku-ji?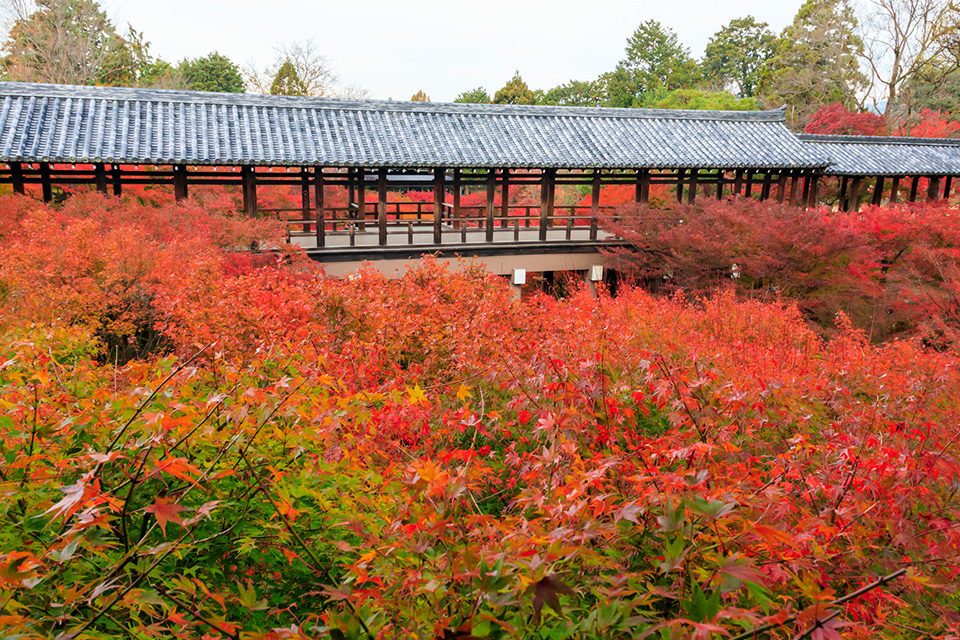 Basically, it is middle November to early December of every year. As the geographic reason, there is said as the latest place for red leaves blooming.
What will be the situation in red leaves period of Tofuku-ji?
In the period that photos prohibited in Tsutenkyo Bridge and Gaun-kyo Bridge, also the best time of red leaves blooming, as well as the most crowded time. By that time a policy of limitation of visitors to pass the Tsutenkyo Bridge will be taken. Suggest going here as early as possible.
The brilliant points of Tofuku-ji
Other than the red leaves sights of Tofuku-ji, there are also many places should not be missed. The Hobon hall (the highest class main hall) was a wooden building built in the age of Showa period. In the ceiling of the main hall, you can see the "Cloudy Dragon" painting of the painters Insho Domoto. The building named Hiyakusetchin also named Tosu. It was a toilet for monks in ancient time. The monk master room is surrounded by its gardens, named Honboteien (Honbo Garden). Aside of the northern garden with drawing of Big Dipper is eastern garden. The representation of Shinsen Island & Kyotogozan is southern garden. And the western garden decorated in checker. In the south of Tofuku-ji is the Tatchu sub-temple Komyo-ji. The famous Komyoin Zen Garden was created by Mirei Shigemori. Another name of Komyoin is Red Mosses Temple because from the windows of the college can see the green mosses contrast again the red leaves.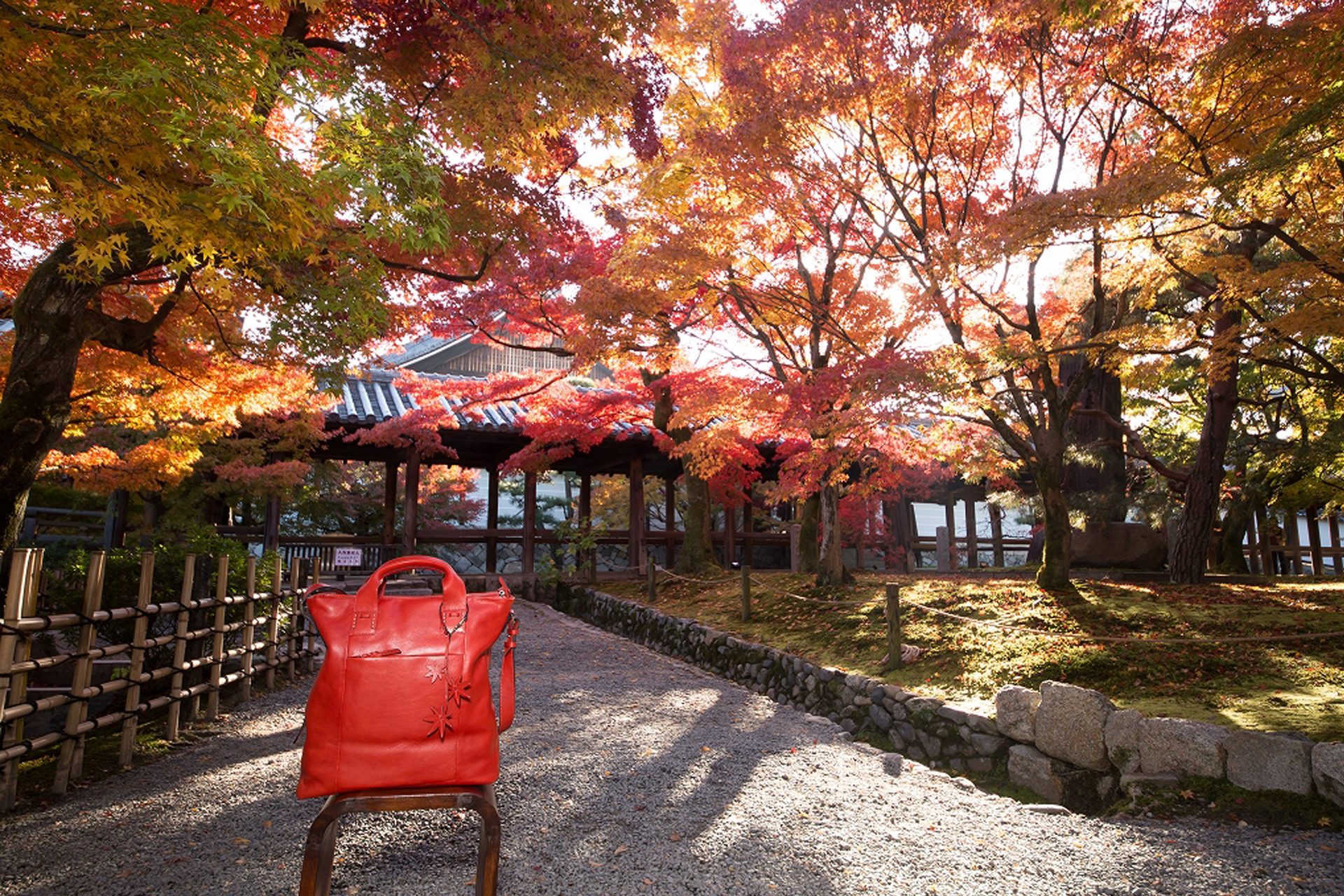 Interesting fall foliage points nearby
Sennyu-ji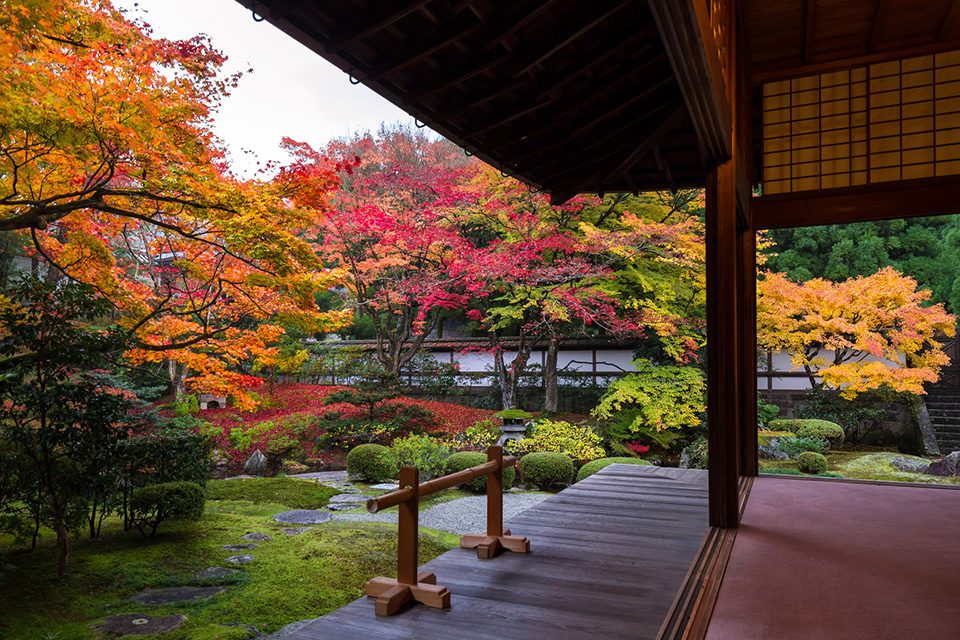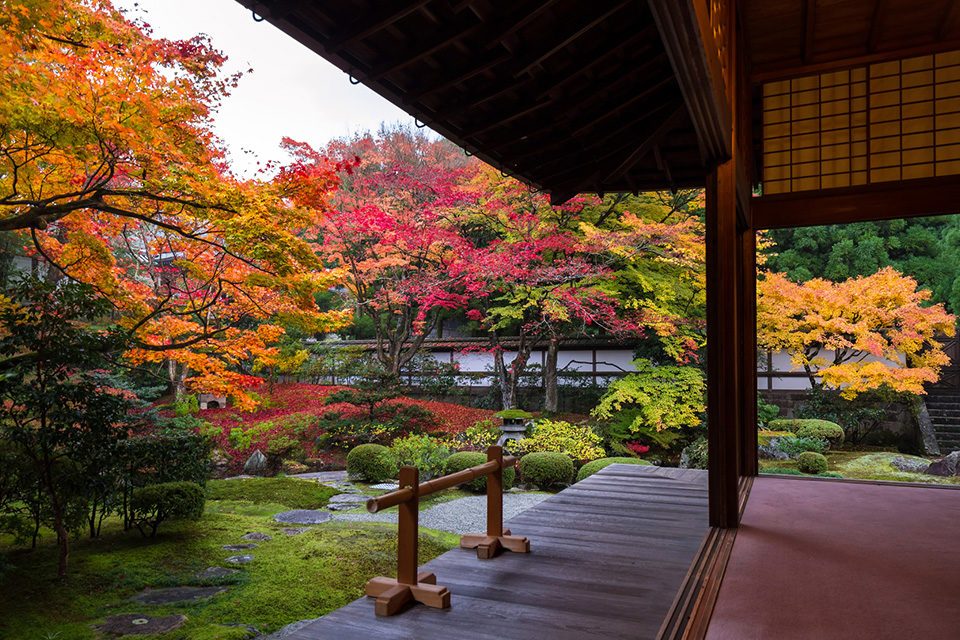 Sennyu-ji was named as "Royal Temple" for the close relationship with Royal family. There is a statue of Yang Guifei Guanyin (Kannon) that said as related to beauty and famous. The name Gozasho Garden was given for there is a Gozasho Udun (Queen's palace) removed from Kyoto. There is also a place to enjoy colorful red leaves.
Imakumano Kannonji
Imakumano Kannonji is located inside Sennyu-ji. A temple was named after the 34th Kumano-Mode (the great activity of emperor to worship in the holy mountains Kumano Sanzan, Pilgrimage of Kumano) of Emperor Go-Shirakawa. It was well known because the head statue of Kannon among the 33 temples of Saigoku. There you can see the maples in red, yellow and orange.
Unryuin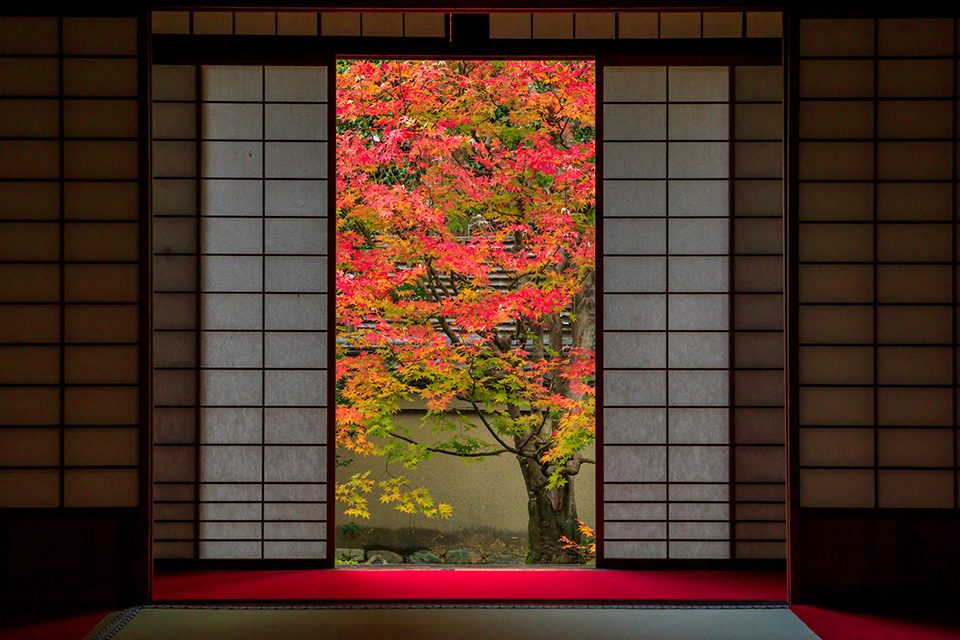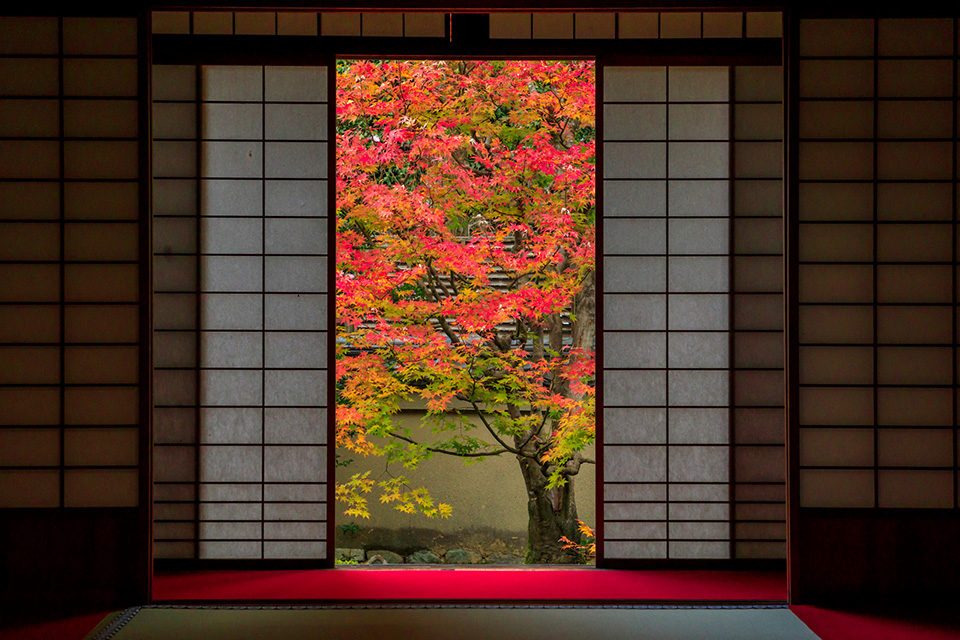 Unryuin is a sub-courtyard of Sennyu-ji. There is famous for the collection of statue of Daikokuten and Buddhist scriptures. There are different windows in the college, such as the round shaped Windows of Enlightenment(悟りの窓) and square shaped Windows of Renge(蓮華の窓). Through the different shapes of windows, you can see the red leaves outside the garden. The time of red leaves in here is earlier than general. Special autumn worship events will be held from mid November to early December.
Yogenin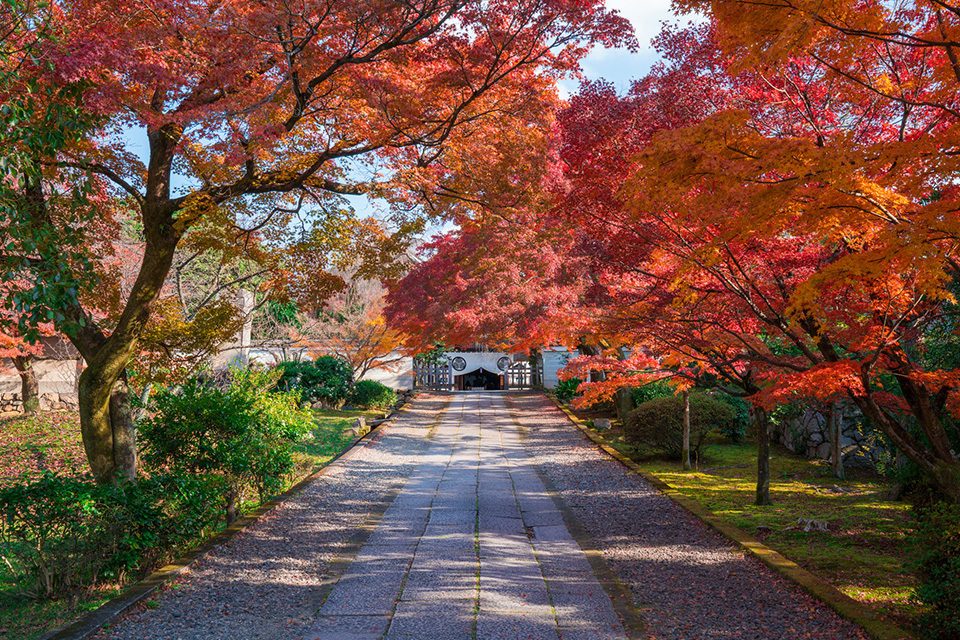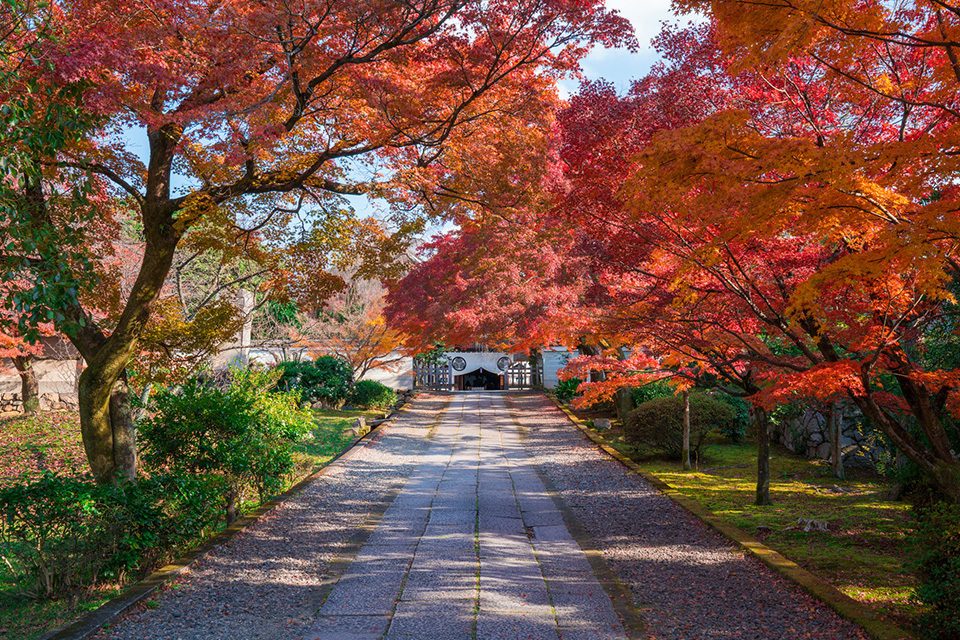 It is located near the Sanjusangendo Temple and built by Yodo-dono for the memorial of his father Azai Nagamasa in Sengoku period. The Chitenjo at inner building, painter Tawaraya Sotatsu of Sugito Painting and the nightingale floor are famous. The bright red maple trees along both side of the pilgrimage's path.
Opening hours: November to Early December: 8:30am to 4:00pm (Last entrance at 4:00pm , close at 4:30pm) Fee: Tsutenkyo Bridge Kaisando: 400Yen Tofuku-ji Honboteien: 400Yen Ryougin: 500Yen for adults, 300Yen for children
Address:
778 Honmachi 15-chome Higashiyama-ku
Get off at Tofuku-ji by JR or Keihan Railway, 10 mins walk
Get off at Tofuku-ji Bus Stop by City Bus, 10 mins walk
Car park: Not available during special worship period
The nearest Times Car PLUS (Times Tofuku-ji No.2): 24cars Location: 41 Sennyuji Torincho Higashiyama-ku Times Car PLUS (Times Tofuku-ji Stop No.2): 10 cars Location: 5 Fukuinekakimotocho Higashiyama-ku