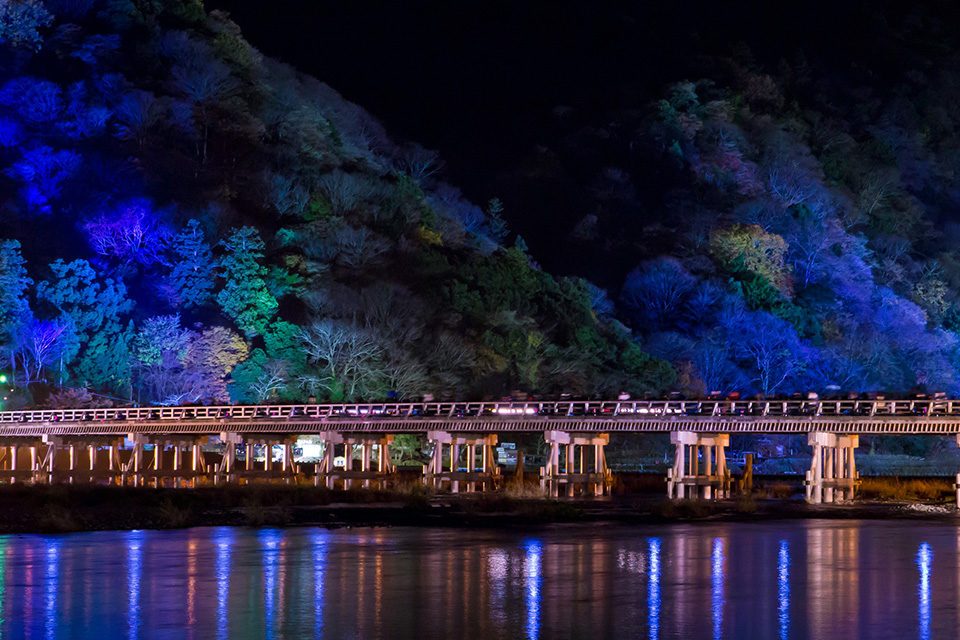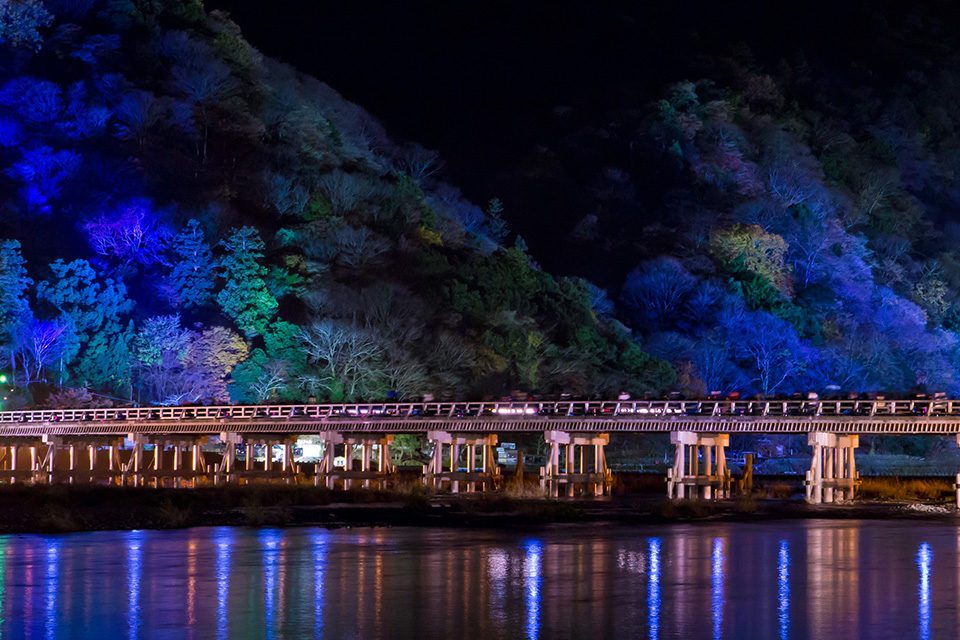 There are many different red leaves attractions in Kyoto, but in the autumn red leaves period, suggest paying attractions on the views with Bridge. Besides overlooking red leaves from the bridge, antique bridge can also be a good match. Here followings are introduction about this.
Tofuku-ji Temple, the synonym of Kyoto red leaves
It is the origin of Tofuku-ji sub-school of Rinzai school. It was built by Kujo Michiie (1193-1252AD). The Tssten-kyo Bridge in the temple is the most famous red leaves attraction. Because the scenery is so unique which be reputed as "Vip position for red leaves observation". There are three bridge in Tofuku-ji named "San-dai-mei Bridge".
Red leaves period in Tofuku-ji Temple
Basically, it is middle November to early December of every year. As the geographic reason, there is said as the latest place for red leaves blooming.
The lighten-up night tour activity in Tofuku-ji Temple
It is a pity that there is no such activity in Tofuku-ji.
Overlook red leaves from Tsutenkyo Bridge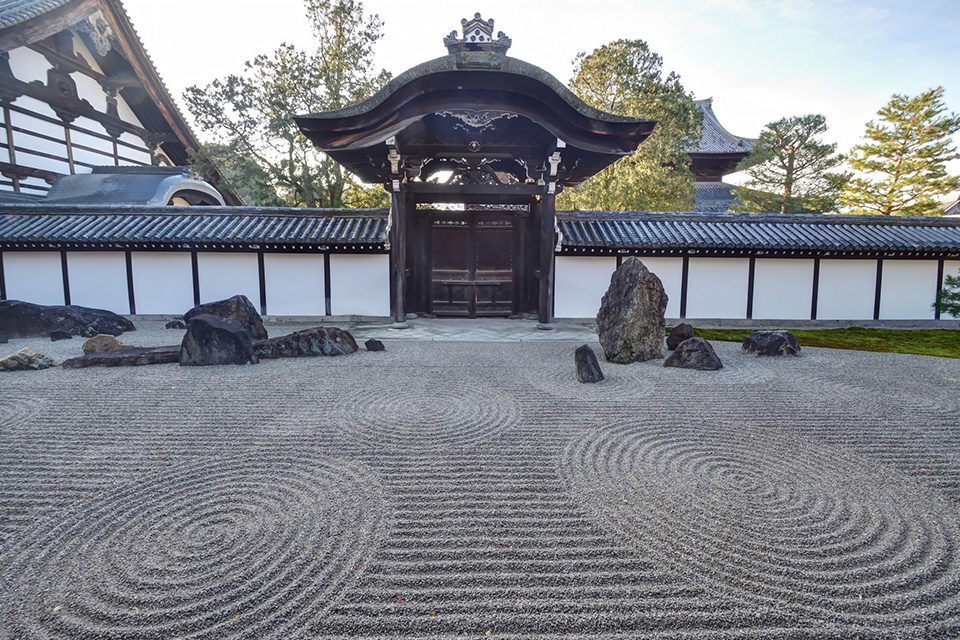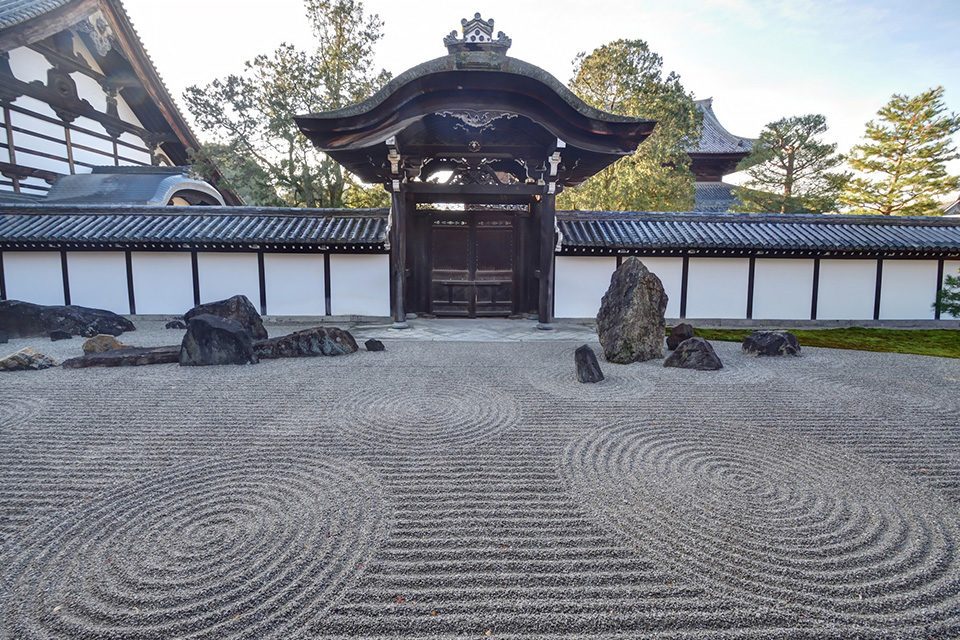 One of the three famous bridges in Tofuku-ji link up the main hall of Kaisando as a corridor, under the bridge is a stream. This area has planted about 200 maple trees. Stream-valley scenery named as Sengi yokukan. On Tsutenkyo Bridge with 2.7 meters width and 27 meters length, can overlook the majestic red leaves view of Sengi yokukan. It seems situated on the cloudy ocean that formed by red leaves. The beauty is unspeakable. At the middle part of the bridge is the best position to take photos.
To overlook red leaves from Gaunkyo Bridge
It is also one of the famous bridges built in the valley of Tofuku-ji Temple located at the end of downstream area. It is a wooden bridge with covering which is full of historic flavor. From here can observe the views around Tsutenkyo Bridge. The maple trees here form a deep red sea. Red leaves are like the waves flowed by autumn wind.
Red leaves look oppositely between Arashiyama and Togetsukyo Bridge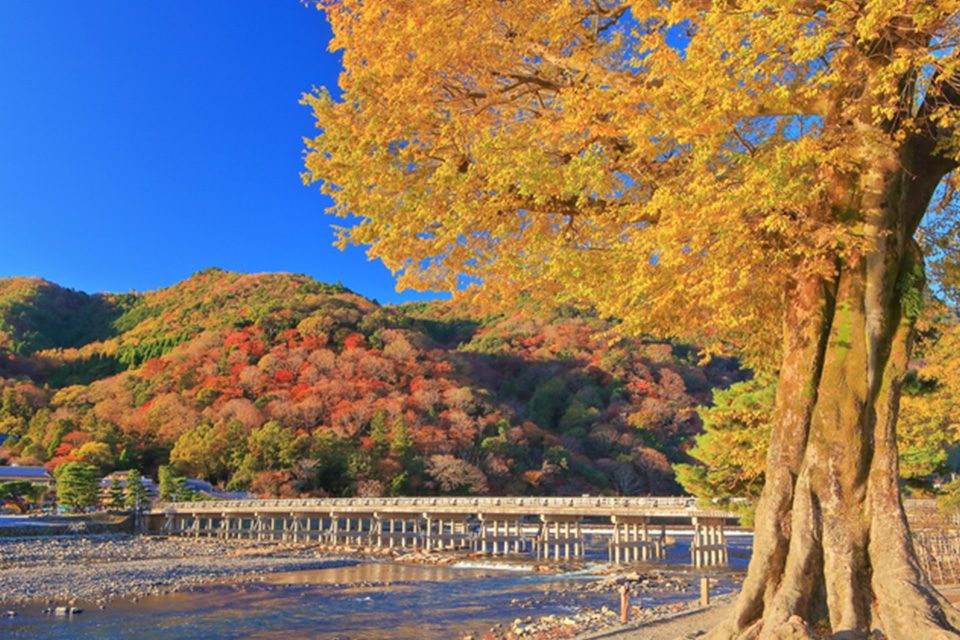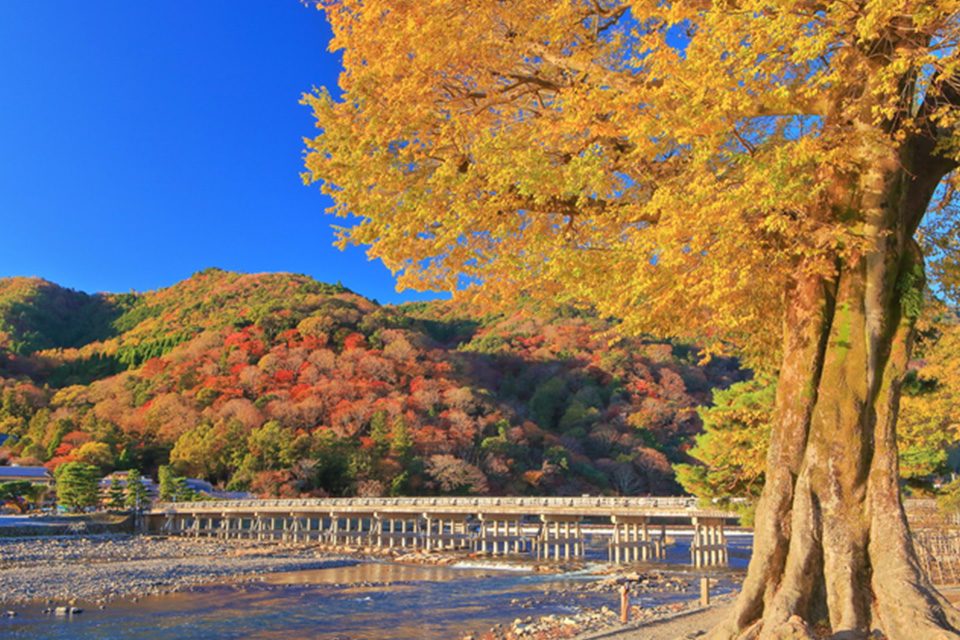 In Heian period, nobles like to build their villas in Arashiyama. Today it has turned to be sightseeing spot. Especially, the colorful sceneries of Togetsukyo Bridge which uses deep red mountain to be its background. Facing such majestic views will sigh involuntarily. Around Togetsukyo Bridge also are many red leaves spots, a place that can stay for a whole day for travelling.
Red leaves period in Arashiyama and Togetsukyo Bridge
The red leaves in Arashiyama and Togetsukyo Bridge start to turn red in mid November. The best period to enjoy is from late November to early December, but it may vary because of different weather situation every year. Suggest visiting the official website for more information.
Night lighten-up activities in Arashiyama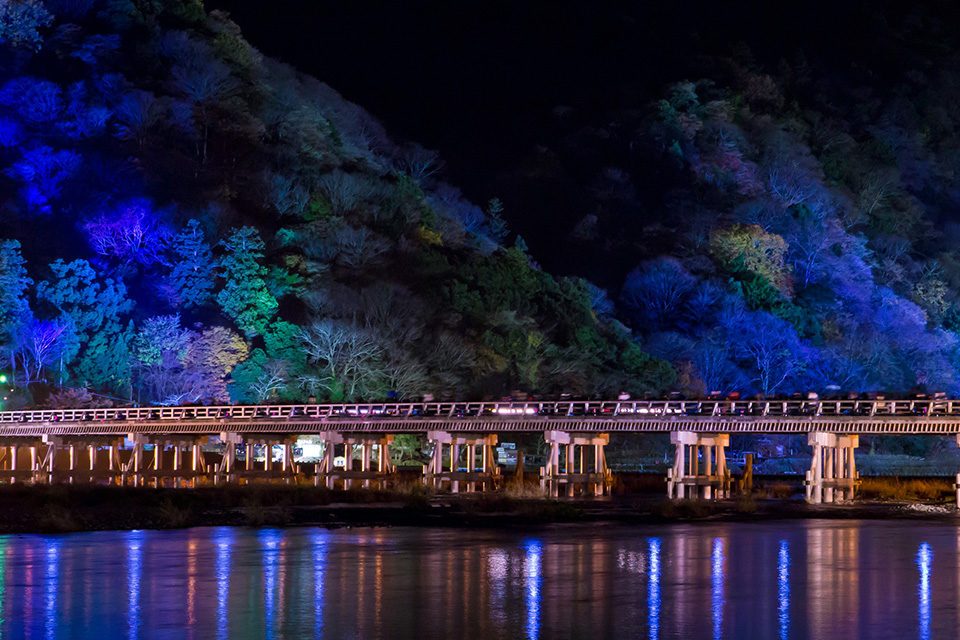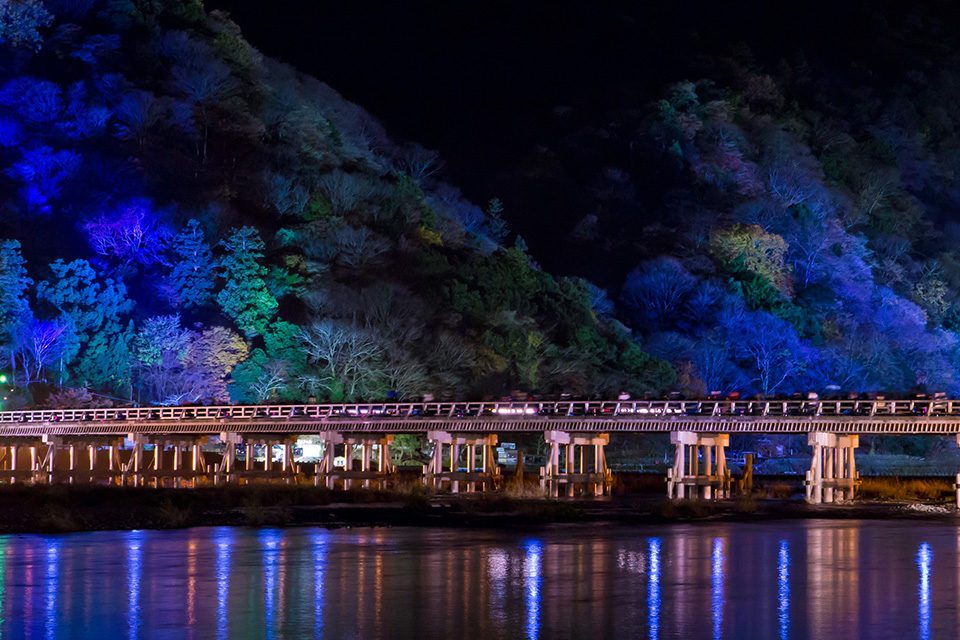 You can stroll in Arashiyama during "Arashiyama Hanatouro" event. Enjoy the different views during daytime and nighttime in Togetsukyo Bridge. Especially the dreaming effect of red leaves illuminated by lights at night, it worth a visit.
The red leaves spots near the Togetsukyo Bridge
1. Sagano Romantic train (Saga torokko station) From Saga torokko station to Kameoka torokko Station, passengers can enjoy the views of Hodzukyo and red leaves on the railway, also the performance of captain. This train will also be available during lighten-up activities in red leaves period. Admiring the beautiful night views and red leaves of Sagano on the train, romantic! •Jojakko-ji Temple In every year around mid November, there are red leaves in Jojakko-ji. As early as Heian period, it is already famous for red leaves. •Tenryu-ji Temple It needs 20 minutes by walking from Jojakko-ji Temple. Suggest walking slowly to enjoy the Arashiyama red leaves near Tenryu-ji. Sogenchi Garden is the most famous red leaves spot in Tenryu-ji, a borrowed scenery from Arashiyama which reflects the red leaves on the pond. Superb view!
Conclusion The recommendation about sceneries related to bridge. They are excellent match with Kyoto beautiful views, such as the famous bridges of Tofuku-ji Temple, that said as the synonym of Kyoto red leaves. Can admire red leaves sceneries from Tsutenkyo Bridge and Gaunkyo Bridge. Also don not miss the Togetsukyo Bridge that uses Arashiyama as background. Around the Togetsukyo Bridge there are many temples worth a visit. It is not able to visit all the red leaves spots even for a whole day.